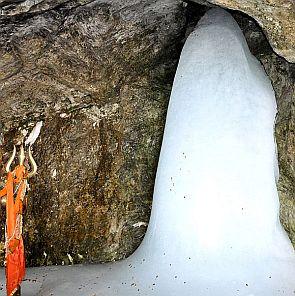 Two pilgrims died of cardiac arrest en route to the 3,880 m high holy cave shrine of Amarnath even as one lakh pilgrims paid obeisance at the shrine, officials said in Srinagar on Friday.
Ashwani Patil of Madhya Pradesh breathed his last at Nagakoti between Sheshnag and the holy cave, while Krishan Kanji (51) of Gujarat died near the cave, officials said.
The two pilgrims died of cardiac arrest en route to the cave on Thursday and their bodies have been handed over to their next of kin for last rites, they said.
Last year, over 100 pilgrims died of various ailments en route to the cave prompting the Shri Amarnathji Shrine Board (SASB), which manages affairs of the annual pilgrimage, to restrict movement of pilgrims to 7,500 daily from both sides -- the 45 km traditional Pahalgam route in Anantnag district and the shorter 16 km Baltal route in Ganderbal district.
Meanwhile, officials said the milestone of one lakh pilgrims visiting the shrine was achieved on eighth day of the 55-day pilgrimage, which started on June 28.
As many as 98,465 pilgrims had a 'darshan' (glimpse) of the naturally formed ice stalagmite known as "Shivlingam" by Thursday night, they said adding, over 2,000 pilgrims offered their prayers at the cave shrine by this afternoon.