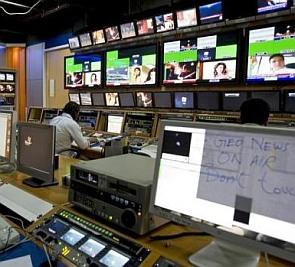 Pakistan has temporarily banned two private television channels, including one of the Geo TV network, and imposed a hefty fine of Rs 10 million on them for airing blasphemous content and ridiculing the judiciary.
Pakistan Electronic Media Regulatory Authority (PEMRA), the official media watchdog, suspended the licences of Geo Entertainment for 30 days and ARY News for 15 days for overstepping the laws of the state regulator.
The entertainment channel of Geo, whose news channel was suspended for 15 days recently, was ordered on Friday to be taken off air for insulting the religious sentiments of viewers when it played a religious song at the mock wedding of controversial actress Veena Malik in one of its morning shows.
The ARY News was banned for brining the higher courts to disrepute through its criticism by airing anti-judiciary programmes.
The regulator imposed a Rs 10 million fine on both the channels.
PEMRA also banned ARY's anchorman Mubashir Lucman and his talk show 'Khara Sach' for criticising the judiciary.
ARY in one of its programmes expressed anger at PEMRA and announced to challenge the ban in the court.
Earlier, the country's famous Geo News was suspended for 15 days for blaming ISI chief for an attack on its anchor Hamid Mir in April.
The Media is facing problems in Pakistan due to pressures from state institutions and militants groups that attack journalists for criticism.