Seventeen female journalists have also urged the court to hear their testimonies against the union minister, claiming that some of them suffered sexual harassment at his hands and others have been a witness to it.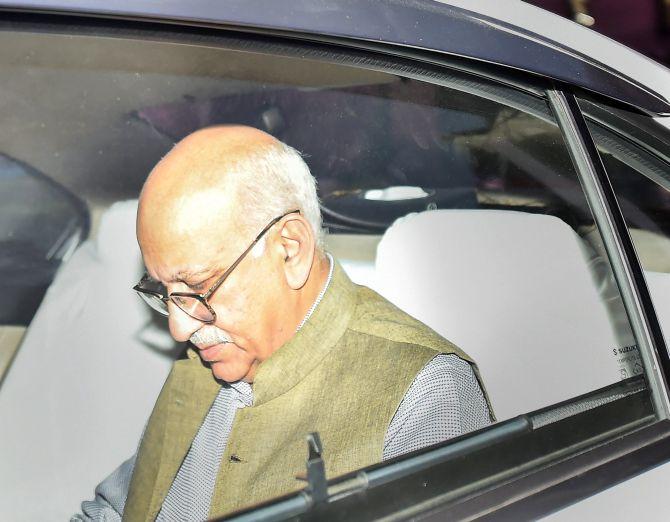 A day after Union minister M J Akbar filed a defamation case against a journalist, two more women came forward with their accounts of alleged harassment by him, undeterred and unafraid as the #MeToo juggernaut continued to roll on Tuesday.
Akbar, who has engaged a top law firm to file a criminal defamation suit against journalist Priya Ramani, lauded the Modi government for its implementation of the National Food Security Act in a tweet.
However, he had more to reckon with as new allegations tumbled out of his 1990s cupboard when he was editor of several publications.
In an article in the Scroll.in (external link), Tushita Patel, a journalist, recounts her first meeting with the Union minister when she was a trainee in the Telegraph back in 1992. She writes that Akbar had found out her home phone number and would call her incessantly asking her to meet him.
She writes that after being 'worn down', she finally gave in. "You opened the door dressed only in your underwear. I stood at the door, stricken, scared and awkward. You stood there like the VIP man, amused by my fear. I did go in and carried on blabbering out of fear till you finally put on a bathrobe," she writes in her harrowing account.
In the same article, Patel has accused him of molesting her twice while she was working in Hyderabad in the Deccan Chronicle in 1993.
She writes about being summoned again to Akbar's hotel room. "Suddenly you got up, grabbed me and kissed me hard -- your stale tea breath and your bristly moustache are still etched in the recesses of my memory. I wriggled out and ran till I reached the road, jumped into an auto rickshaw and started crying," Patel further elaborates.
It happened again the next morning, said Patel. "You ushered me into the empty conference room, grabbed me again and kissed me."
She concludes her ordeal by writing, "Defeated, humiliated, blinded by hurt and tears, I stayed in that room till I stopped crying. I waited till you had left the building, went to the bathroom, washed my face and carried on to finish my page."
Patel said the minister should stop lying and show some contrition. "So please stop with the lying. Stop lying about your plywood and glass cabin in the Asian Age... And enough with the legal intimidation -- we can see you in court too. The same sisterhood of solidarity that held our hands through the darkest times of our lives will come out only because you continue to be brazen. We are not confused, conflicted or vulnerable any more. Our time to speak is now – when we don't have to run to a police station to lodge a complaint before anyone would give us a hearing."
Businesswoman Swati Gautam, writing for The Quint (external link), claimed Akbar met her in his hotel room dressed only in his bathrobe when she was a student in Kolkata and went to invite him as a guest speaker for an event at St Xavier's College.
"The door opened and the Bathrobe welcomed me. Mr Bathrobe was on the bed while I was kind of squirming on the single sofa in the room, unable to exactly fathom what in hell was the matter with the world which seemed perfectly normal sometime back," writes Gautam in her article.
Gautam alleged that Akbar rolled a glass down to her, suggesting she make a drink for him.
"When my initial shock wore off, I too bent down and rolled it back at him. That buoyed me up. Giving him a hard stare, I got up and walked out of that dratted room and as far away as I could from The Bathrobe...," she said.
In a letter to Home Minister Rajnath Singh, the Indian Women's Press Corps said it was deeply dismayed the government has not instituted any formal inquiry despite the long list of complaints involving the "minister of state in the ministry of external affairs".
"We very strongly feel that the continuation of the minister in his position only sends out the wrong message that the government is apathetic to these serious concerns," the organisation comprising women journalists said without naming Akbar.
Standing their ground
Seventeen women journalists who have worked with The Asian Age newspaper, came out in support of their colleague Priya Ramani who has accused Union minister M J Akbar of sexual harassment, said a joint statement issued by them.
The journalists have urged the court to hear their testimonies against Akbar, claiming that some of them suffered sexual harassment by the minister and others have been a witness to it.
"Ramani is not alone in her fight. We would request the honourable court hearing the defamation case to also consider the testimonies of sexual harassment of some of us at the hands of the petitioner, as also of the other signatories who bore witness to this harassment," the journalists said in the joint statement undersigned by them.
Meenal Baghel who worked for Asian Age (1993 to 1996), Manisha Pande (1993-1998), Tushita Patel (1993-2000), Kanika Gahlaut (1995-1998), Suparna Sharma (1993-1996), Ramola Talwar Badam (1994-1995), Hoihnu Hauzel (1999-2000), Aisha Khan (1995-1998) and Kushalrani Gulab (1993-1997) have signed the statement.
Kaniza Gazari (Asian Age 1995-1997), Malavika Banerjee (1995-1998), A T Jayanthi (1995-1996), Hamida Parkar (1996-1999), Jonali Buragohain, Meenakshi Kumar (1996-2000), Sujata Dutta Sachdeva (1999-2000) and Sanjari Chatterjee are the other journalists to sign the statement.
"What Akbar has demonstrated through his legal actions is his refusal to introspect, acknowledge or atone for his actions that have caused immense pain and indeed harm to many women over the years. He himself, in the meanwhile, continues to enjoy enormous power and privilege as minister and Member of Parliament," the statement said.
"When Ramani spoke out against him in public, she spoke not only about her personal experience, but also lifted the lid on the culture of 'casual misogyny, entitlement and sexual predation' that Akbar engendered and presided over at The Asian Age," it said.
Ramani on Monday asserted that she was ready to fight the defamation complaint filed against her, and expressed disappointment over the minister's statement, saying it paid no heed to the "trauma and fear of the survivors".
"I am ready to fight the allegations of defamation laid against me as truth and the absolute truth is my only defence," she had said.
-- With inputs from PTI