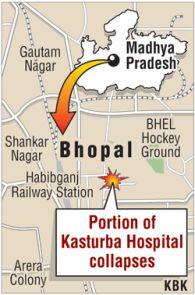 Two persons were killed and 14 others injured when the two-storied portion of a women's ward of BHEL-runKasturbaHospital in Bhopal collapsed Friday evening, officials said.
"The bodies of two persons identified as Jameel and Arun were found when the rescue team started removing debris of the collapsed structure," Collector Nikunj Shrivastava told PTI.
The structure, which was nearly 50-years-old, collapsed around 5 pm when there was some tiling work going on at the ground floor, he said.
The collector did not rule out the possibility of more persons being trapped under the collapsed structure.
Executive Director of BHEL S R Prasad said that 14 persons received injuries and they were being treated in another wing of the hospital.
Prasad said that, "We have scanned the collapsed structure and there is nobody trapped inside. The work is on to clear the debris but one person was reported missing and efforts were on to locate him,".
Meanwhile, Madhya Pradesh Chief Minister Shivraj Singh Chouhan has announced an ex-gratia of Rs 2 lakh each to the kin of those killed in the incident and Rs 50,000 each to the seriously injured persons.