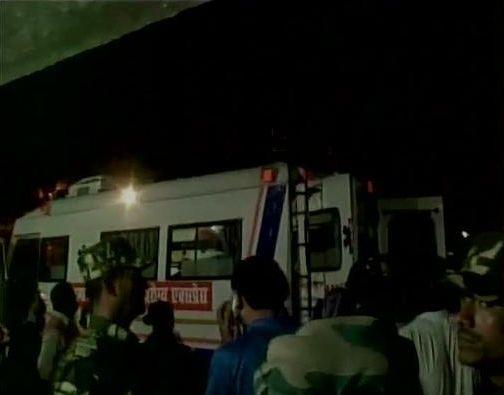 Two Central Reserve Police Force jawans were killed while 10 were injured, five of them critically, when Maoists blew up a mini-bus carrying them in Gaya district on Tuesday evening.
The ultras planted a landmine on the route taken by the security personnel, police and CRPF, in Imamganj-Dumaria area during anti-Naxal operation, Director General of Police P K Thakur.
"The landmine exploded when the mini-bus came over it," he said.
CRPF DIG Chiranjeev Prasad said an Improvised Explosive Device exploded near a place called Nandai on Imamganj-Dumaria Road.
The CRPF personnel belong to elite CoBRA battalion engaged in anti-Maoist operations in the state, he said.
"There was heavy force mobilization in the wake of an encounter in the vicinity yesterday. The Maoists had planted an IED on the route on which the forces were moving. One of our mini-buses carrying our jawans was hit by the blast," Prasad said.
"The force moving through the area also came under fire from the Maoists after the IED blast," Prasad said.
Inspector General of Police (Operations) Sushil Khopde said two CRPF jawans were killed and ten wounded in the attack.
Of ten injured jawans, the condition of five was stated to be critical, he said adding while four of the five seriously wounded were taken to Ranchi another was flown to Patna.
Khopde said Rs 30 lakh would be given tomorrow to each of the families of the deceased jawans.
DGP Thakur said Chief Minister Nitish Kumar announced a compensation of Rs ten lakh for the families of each of the two jawans killed in the Maoist ambush. The state government would bear the entire expenditure for the medical treatment of the injured, according to the DGP.
Additional forces have been rushed to the area, Thakur said.

Image: The injured CRPF jawans being brought in to the hospital. Photograph: ANI