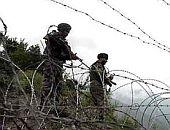 In a "provocative" attack, Pakistani regular soldiers crossed into Indian territory in Poonch sector of Jammu and Kashmir and ambushed an Indian patrol killing two soldiers, one of whom was decapitated.
Condemning the attack, which it called provocative, the government said it will take up the incident with Pakistan. "We expect Islamabad to honour the ceasefire agreement strictly," the defence ministry said in a night on Tuesday statement.
Army's Additional Director General (public information) Major General S L Narasimhan said Northern Army Commander Lt Gen K T Parnaik visited the scene of action and confirmed that one of the two bodies was mutilated.
Other sources said the heads of both the Indian soldiers -- Lance Naiks, Hemraj and Sudhakar Singh -- have been chopped off and one was taken away by Pakistani intruders.
This was a chilling reminder of the brutal attack on Capt Saurabh Kalia and his team by Pakistani troops in Kaksar sector of Kargil during the 1999 conflict.
Tuesday's attack took place along the Line of Control in Poonch district when Pakistanis came about 100 metres into the Indian territory and assaulted the patrol party.
Besides killing two, they also injured two other soldiers and took away their weapons and other belongings.
In Islamabad, a military spokesman denied India's allegation of provocative action in Poonch sector by Pakistani troops. However, the sources said Pakistan army's border action team entered into the Indian territory at Krishna Ghati area of Poonch district and carried out the strikes well past 11.30 am and the attack lasted for more than an hour.
The army's Udhampur-based Northern Command came out with a statement terming the attack as a "significant escalation" to the continuing series of ceasefire violations and infiltration attempts supported by the Pakistan army.
"A group of their regular soldiers intruded the Line of Control in the Mendhar Sector on January 8. Pakistan army troops, having taken advantage of thick fog and mist in the forested area, were moving towards our posts when an alert area domination patrol spotted and engaged the intruders," it said.
"The firefight between Pakistan and our troops continued for approximately half an hour after which the intruders retreated towards their side of the LoC. Two soldiers Lance Naik Hemraj and Lance Naik Sudhakar Singh laid down their lives while fighting the Pakistani troops," the statement said.
This is yet another "grave provocation" by the Pakistan army which is being taken up sternly through official channels, it said about the attack in Mendhar sector of Poonch district.
The defence ministry statement said, "The Government of India considers the incident as a provocative action and we condemn it. Director general military operations of the two countries are in touch over it. The government will take up the incident with the Pakistan government. We expect Islamabad to honour the ceasefire agreement strictly," it said.
Jammu and Kashmir Chief Minister Omar Abdullah condemned the incident and said this was an attempt to derail the dialogue process between the two countries.
"Violation of the ceasefire is bad enough, to resort to mutilating soldiers is unacceptable in any civilised society," Omar tweeted.
He said that it was an attempt to derail the dialogue process between the two countries. "Clearly someone up the chain of command wants to do everything to derail any dialogue between the two countries," he said.
In last about one month, Pakistan army has violated the ceasefire agreement nearly a dozen times. Most of these firing incidents were in Rajouri, Uri and Keran sector to help infiltration attempts, army officials said.  
The attack comes a day after Pakistan lodged a strong protest over what it described as an "unprovoked Indian attack" on one of its military posts along the Line of Control in Haji Peer sector, a claim, which the Indian army rejected.
In October last year, three civilians were killed in Uri sector due to Pakistani mortar firing on a village of Churunda in North Kashmir.
Jammu and Kashmir has witnessed 71 incidents of cross-border firing and ceasefire violations along Indo-Pak border in which 7 persons including four security personnel were killed and 15 others were injured last year.
There were 51 cases of cross-border firing and ceasefire violations in 2011 as compared to 44 cases of ceasefire violations along the LoC in Jammu and Kashmir were registered in 2010 and 28 were in 2009.
The increase in firing incidents and ceasefire violations by Pakistan came close on the heels of detection of 400-meter long tunnel in Jammu and Kashmir's Samba sector on July 28 and subsequent lodging of strong protest over the tunnel issue on July 31.

With PTI inputs