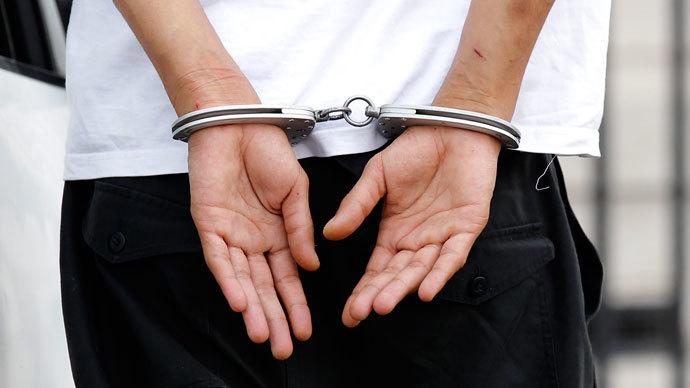 Two persons were arrested in Araria on Friday for allegedly raising 'anti-national' slogans, while celebrating the victory of Rashtriya Janata Dal candidate Sarfaraz Alam in the Araria Lok Sabha bypoll, police said.
A video footage, which has gone viral on the social media, shows a group of people raising 'anti-India' and 'pro-Pakistan' slogans after the declaration of the bypoll results on Wednesday, they added.
Taking cognisance of the video, the Station House Officer of Araria town police lodged a first information report against a group of persons -- three named, the rest unidentified -- under various sections of the Indian Penal Code and the Information Technology Act.
"Two persons named in the FIR -- Mohammad Shahzad and Mohammad Sultan -- have been arrested. The third accused, Mohammad Abid, will be nabbed soon," District Magistrate, Araria, Himanshu Sharma said.
The video showed the sloganeers flashing the victory sign near Alam's residence.
Alam had defeated the BJP's Pradeep Kumar Singh by over 60,000 votes in the bypoll.
Reacting to the development, Leader of Opposition in the Bihar assembly Tejashwi Yadav said in Patna, "Let the matter be thoroughly investigated. Videos that go viral are not always authentic. Moreover, those named as accused may not necessarily be our party workers."
Stating that he had spoken to Alam, who had told him that no victory celebrations were organised by him, the RJD leader said, "On occasions like these, people gather on their own. In a crowd, anybody can cause a mischief. Moreover, the BJP has been carrying out a smear campaign against us, describing our victory in Araria as a boost to terrorist activities."
Yadav also took strong exception to Union minister Giriraj Singh's statement that the RJD victory would convert Araria into a terrorist hub.
"Does he not remember that the seat was with the RJD since 2014, when Alam's father, the late Mohammad Taslimuddin, got elected from there? Was it a terrorist hub during that period? If yes, what was the government, of which Singh is a part, doing," he said.
Alam also stressed the two arrested people did not belong to the party.
Speaking to reporters outside the Parliament, the newly-elected Parliamentarian also said he did not believe in the slogans the youth concerned allegedly shouted.
"Those are not RJD men, not of the alliance. I don't believe (in what they have said), I believe in secularism," Alam told reporters.
Meanwhile, Union minister Ashwini Kumar Choubey, who hails from Bihar, told a news channel it was 'unfortunate' that such slogans were allegedly raised in India.
"It needs to be identified who these people are," he added.
Image for representation only.
© Copyright 2020 PTI. All rights reserved. Republication or redistribution of PTI content, including by framing or similar means, is expressly prohibited without the prior written consent.