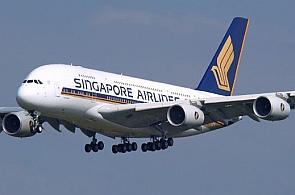 More than 400 people on board a Singapore Airlines Airbus A380 superjumbo from Singapore to Mumbai had a narrow escape after it was hit by a sudden turbulence on descent, injuring 22 passengers and crew.
"Singapore Airlines flight SQ424 from Singapore to Mumbai experienced sudden turbulence during descent on October 18 (Saturday). There were 408 passengers and 25 crew members on board," the airlines said in a statement.
"Eight passengers and 14 crew sustained injuries and were attended to by medical personnel on arrival at the Mumbai airport. Of the 14 crew, 10 required hospitalisation. They have been cleared and discharged by the medical personnel. All eight passengers were hospitalised and six have been discharged by the medical personnel after examination," the statement said.
"Our immediate concern is for the well-being of our passengers and crew. Singapore Airlines will provide full assistance to the authorities in their investigations," local media quoted SIA statement.
The Airbus A380 is a double-deck, wide-body, four-engine jet airliner manufactured by Airbus. It is the world's largest passenger airliner, and the airports at which it operates have upgraded facilities to accommodate it.

Image: Representation picture