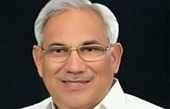 Around twelve people have been questioned in connection with the murder of local Bahujan Samaj Party leader Deepak Bhardwaj with police on Wednesday saying that it was probing whether any contract killers from Haryana's Sonepat area were involved.
A senior police official said they were also talking to Bhardwaj's wife, who had been staying separately, and his sons to ascertain whether there was a property dispute and if he had any "enemies".
He said the police have questioned about a dozen people in connection with the murder. Police had also on Tuesday released a CCTV footage of the attackers at the Nitesh Kunj farmhouse where the incident took place.
Investigators suspect that the attackers, who shot and killed 62-year-old Bhardwaj on Tuesday, were from Sonepat going by certain clues.
The Skoda car in which they arrived at Bhardwaj's South Delhi farmhouse, is believed to have had a fake registration plate.
Bharadwaj, the richest candidate in the 2009 Lok Sabha polls with declared assets of over Rs 600 crore, was fired upon from point blank range by three men who fled after the incident.
He was gunned down by the trio who entered his farmhouse in Rajokri at 8:55 am on the pretext of booking the place for a marriage, Delhi Police Commissioner Neeraj Kumar had told reporters.
The assailants of the BSP leader, who was into education, hotel and real estate business and had declared assets worth over Rs 600 crore in 2009, had come in a dark grey Skoda car to the farmhouse.
He had suffered bullet injuries on his chest and back and slumped bleeding heavily. He was rushed to Army's Research and ReferralHospital near Dhaula Kuan in south Delhi where he succumbed to the injuries.
Police have collected a video footage of the car in which the attackers came to the farmhouse located next to National Highway No 8 and used as a hospitality hub. They are also examining call detail records of Bhardwaj.
The CCTV footage, which was aired by some news channels, showed the attackers brandishing guns at guards near the entry gate. Two of the attackers were seen opening the gates and then fleeing in their car.