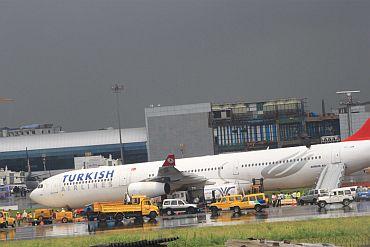 A Turkish Airways plane from Istanbul to Mumbai carrying 97 passengers on board veered off the runway at the Mumbai airport early Friday morning.
The Airbus-340-300 (TK-720) skidded off the rapid exit taxiway at 4.13 am. All passengers, including crew, are safe and deplaned after the incident, a MIAL official said.
Since the incident took place very close to the main runway, it led to 15-20 minutes delay in flight operations.

Two flights were diverted. A Gulf-Air flight from Sharjah was diverted to Ahmedabad at 4.40 AM and another Singapore Airways cargo plane from Chicago to Mumbai was diverted to Chennai.

Turkish Airways could not be contacted immediately for further details.
On Wednesday, an Air India plane from Jeddah with 286 passengers and crew on board landed under emergency conditions at the airport here following suspected hydraulic failure, the second such incident in the week involving the state carrier.

A day before, an Air India plane with 123 passengers and crew landed under emergency conditions at the Thiruvananthapuram airport after a minor defect was detected in its hydraulic system.
Earlier on Monday, a Gulf Air plane with 137 passengers had skidded off the runway and got stuck in the mud at Kochi airport in bad weather, injuring seven passengers.
Image: Turkish plane skids off the runway at Mumbai airport
Photograph: Sahil Salve