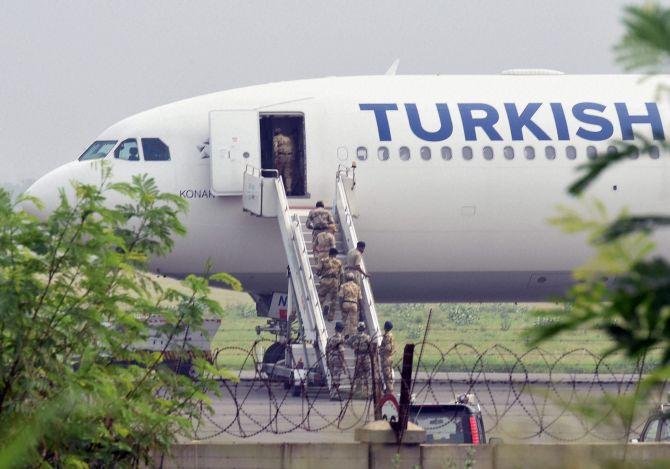 Security personnel arrive to inspect Istanbul-bound Turkish Airlines flight from Bangkok that landed, with 134 passengers on board, at the IGI Airport in New Delhi on Tuesday, Photograph: Kamal Singh/PTI
An Istanbul-bound Turkish Airlines flight from Bangkok with 157 passengers and crew on board landed at the Indira Gandhi International Airport in New Delhi under emergency conditions following a bomb scare but was cleared for take-off after the security agencies did not find any explosive.
Flight TKO65 sought an emergency landing after its pilot was informed about a message scribbled on the mirror of a washroom with a lipstick warning about the presence of a bomb in the cargo hold.
"Nothing was found...the aircraft has been cleared for take off," Civil Aviation Secretary R N Choubey told reporters.
Sources said the lipstick used for writing the threat message was found during the search.
The Delhi police will register a first information report in connection with the incident, sources said, adding, "The plane is likely to take off around 9:30 pm."
"When the aircraft was in Indian air space near Nagpur the crew noticed a note saying bomb in CGR (cargo). The crew informed the pilot who got in touch with the Nagpur Air Traffic Controller who advised that the aircraft land in Delhi," Choubey said.
The aircraft touched down in Delhi at 1:34 pm and was taken to an isolated area of the airport after which all 144 passengers and 13 crew were off-loaded as was their luggage, which were subjected to security checks, Choubey said.
Turkish Airlines, in a statement, however, said there were 134 passengers on board the Airbus 330 plane.
The aircraft was checked for explosives by the Central Industrial Security Force and the bomb disposal squads. Commandos of the elite National Security Guard with their dog squads were kept on stand by.
As the security personnel scanned the aircraft for bomb, CISF Director General Surender Singh briefed Home Minister Rajnath Singh on the situation.
The Bomb Threat Assessment Committee, a multi-agency body, said since the threat was "specific", the normal drill prescribed for such situations was followed.