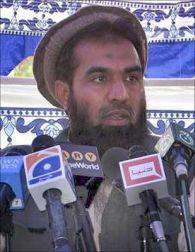 Arrested terrorist Abdul Karim Tunda told his interrogators that he holds a grudge against Lashkar-e-Tayiba commander Zaki-ur-Rehman Lakhvi for scuttling his chances of reaching the top position in the outfit despite being the "architect" of its pan-India structure, which was earlier confined to Kashmir.
Senior Delhi police officials who interrogated the 70-year-old bomb expert said he blamed Lakhvi for keeping him on "fringes" of the LeT which carried out number of terror attacks in India.
"He says that Lakhvi, who is the mastermind of the 26/11 Mumbai attacks, made sure that Tunda remains on the fringes of the organisation. He said Lakhvi did not allow him to come into the decision making body," the officials said.
"Tunda claims that he came in contact with LeT in 1991 and since then he had worked tirelessly to build and nurture the terror outfit's structure outside Kashmir. This continued even after he left India and went to Pakistan," the officials who are involved in Tunda's interrogation said.
They said Tunda also claimed that he was sidelined by the top LeT leadership ahead of the 26/11 attacks after his spat with Lakhvi over financial issues. "Despite being one of the main founders of LeT's pan-India operations, Tunda was kept out of the details of the operation. Some of the younger operatives of LeT, including Abu Jundal, were being preferred over Tunda," said another police official.
Tunda claimed that he was merely informed about the happenings of the Mumbai attack by Jama'at-ud-Da'wah chief Hafiz Saeed who had instructed him to concentrate on Fake Indian Currency Notes into India, the investigators said.
Tunda, who was holding a Pakistani passport with the name Abdul Quddus, was arrested on August 16 from an area on the Indo-Nepal border after being on the run in several countries for 19 years.