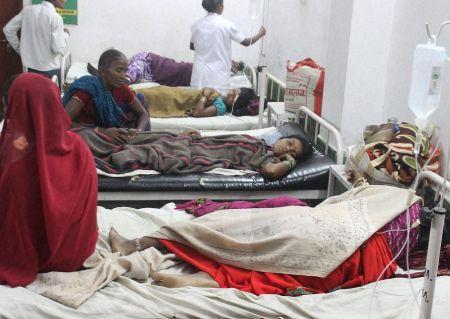 The Indian Medical Association and the Chhattisgarh Medical Officers' Association on Monday came out in support of a surgeon who has been sacked from service and arrested for his alleged "dereliction of duty" while conducting sterilisation procedures in Pendari village in the state on November 8 which claimed lives of 12 women.
State unit IMA president Prabhat Shrivastav has threatened to launch an "intense" agitation by doctors from November 20 if surgeon R K Gupta was not released.
"Instead of probing how sub-standard medicines, used in the camps, were procured by the health department, the government has suspended doctors without thoroughly investigating the matter," Shrivastav claimed.
Gupta, who is claimed to have performed over 50,000 sterilisation surgeries in his career, had claimed that sub-standard medicines supplied by the government caused post-operative complications resulting in the deaths and that "he alone" cannot be blamed for the tragedy.
He had demanded that like him all health officials suspended in connection with the incident and the Block Health Officer be charged with "culpable homicide not amounting to murder".
Meanwhile, a large number of women formed a human chain in Bilaspur on Monday to register their protest against the botched sterilisation surgeries that claimed 13 lives in Pendari and Pendra blocks together and demanded resignation of Health Minister Amar Agrawal on "moral grounds".
Hundreds of women from different welfare organisations gathered at Nehru Chowk this afternoon and peacefully protested by forming a human chain.
"Agrawal (who hails from Bilaspur district) should be ashamed of the tragic incident which claimed lives of a number of poor women and should step down "taking the moral responsibility," Sarita Devi, convener of a local social organisation told reporters.
The women organisations also sought to impose serious criminal charges on those who will be found guilty for the incident in the ongoing judicial probe.
Some youths also observed a silent protest at few places in the city and paid tribute to the victims of the tragedy.