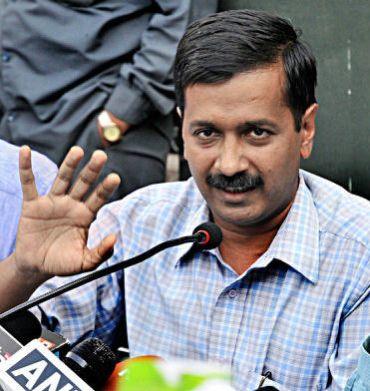 "Truth will triumph," Chief Minister Arvind Kejriwal on Monday said, ahead of the special session of the Delhi assembly on Tuesday in the wake of corruption charges levelled against him by suspended Aam Aadmi Party minister Kapil Mishra.
"Truth will triumph. Its beginning will be made during the special session of the Delhi Assembly tomorrow," Kejriwal tweeted on the graft charges against him by Mishra that has led to turmoil in the Aam Aadmi Party.
The one-day special session is expected to be a stormy affair as the opposition Bharatiya Janata Party plans to come down hard on the AAP government over Mishra's graft charges.
The ruling AAP will also seek to corner the BJP and its government at the Centre over alleged EVM manipulation.
AAP sources hinted that the revelations which are being planned by the party on Tuesday will be targeted at the BJP.
The Political Affairs Committee of the AAP suspended Mishra from the party's primary membership after he made graft charges against Kejriwal.
Mishra dared the AAP to oust him from the party even as he fired a fresh salvo at Kejriwal, saying a Rs 50 crore deal was arranged for the AAP chief's brother-in-law.
Asserting that a bogus bill amounting to Rs 10 crore was made to favour Kejriwal's brother-in-law, Mishra also alleged that during the Punjab polls, there was massive corruption by AAP in ticket distribution, and supplying of liquor by party members.