Congress leader Rahul Gandhi quoted Mahatma Gandhi in a tweet about truth and non-violence after a court in Surat in Gujarat on Thursday sentenced him to two years in jail in a criminal defamation case connected to his "Modi surname" remarks.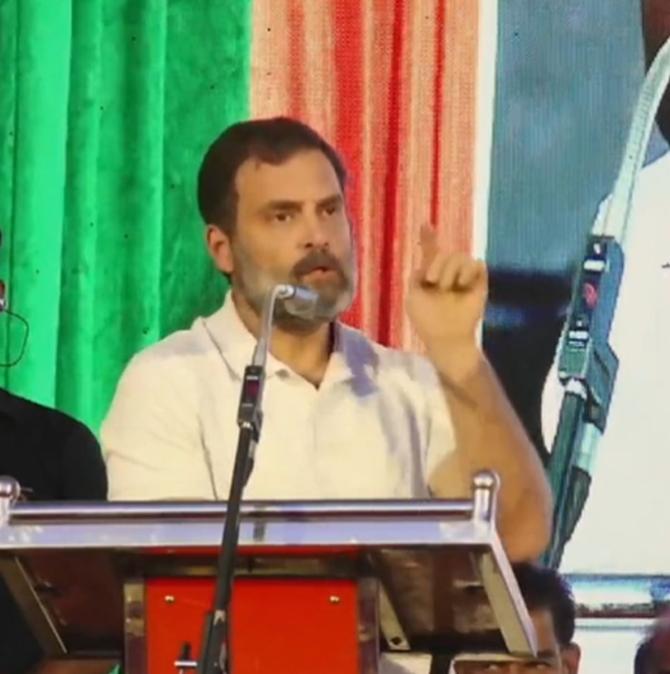 "My religion is based on truth and non-violence. Truth is my God, non-violence the means to get it -- Mahatma Gandhi,'' the Congress leader said in a tweet in Hindi soon after the court verdict.
The court of chief judicial magistrate HH Varma sentenced Gandhi to two years in jail in a criminal defamation case over his 'Modi surname" remark during an election rally in Karnataka in ahead of 2019 Lok Sabha election.
The court granted him bail and suspended the sentence for 30 days to allow him to appeal in a higher court, the Congress leader's lawyer Babu Mangukiya said.
The court sentenced Gandhi under sections 499 and 500 of Indian Penal Code dealing with criminal defamation, Mangukiya said.
Gandhi was present in the court when it pronounced its verdict.
The case was filed against Gandhi for his"how come all the thieves have Modi as the common surname?" remarks on a complaint lodged by BJP MLA and former Gujarat minister Purnesh Modi.
The Lok Sabha MP from Wayanad made the remarks while addressing a rally at Kolar in Karnataka on April 13, 2019 during Lok Sabha poll campaigning.
© Copyright 2023 PTI. All rights reserved. Republication or redistribution of PTI content, including by framing or similar means, is expressly prohibited without the prior written consent.