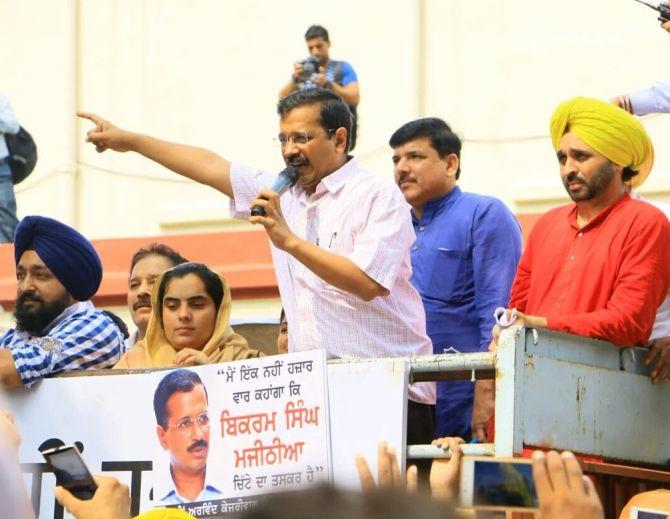 Attacking Delhi Chief Minister Arvind Kejriwal for his remarks 'seeking proof' of the anti-terror surgical strike in Pakistan-occupied Kashmir, the Bharatiya Janata Party on Tuesday asked him not to belittle the armed forces by getting influenced by Pakistani 'propaganda'.
However, Kejriwal rejected BJP's criticism, accusing it of playing politics over the anti-terror surgical strike and said why was the party 'scared' when he had only asked the prime minister to counter the false propaganda by Pakistan.
At a press conference, Union Minister Ravi Shankar Prasad said the Aam Aadmi Party leader should answer whether he believed in the Indian Army or not.
Kejriwal should not 'belittle the great leadership, courage and sacrifice of armed forced under the garb of seeking proof', Prasad said, and alleged that he has give the neighbouring country a chance to question the army's assertion.
"It was most painful and unfortunate that the AAP leader was in Pakistani media headlines today as his remarks yesterday gave it a chance to question India Army's claim," the BJP leader said, wondering why he was being swayed by Pakistani propaganda.
"The question being asked in a way raises question over the action of Indian Army. I must say that. If Pakistani media is saying something, then why an India chief minister is being influenced and seeking proof?
"Arvind Kejriwal, you are in the headlines of Pakistani newspapers. Do you know it? At a time when the whole nation is speaking in one voice, a chief minister has said something that has given Pakistani media and people a chance to question India Army action. There cannot be more painful and unfortunate thing," he said.
"Politics is different but nothing should be said that demoralises our army and makes it feel humiliated," he said.
India has been successful in isolating Pakistan politically and diplomatically but Kejriwal is being guided by Pakistani media reports, Prasad said.
In a televised speech on Monday, Kejriwal had 'saluted' Prime Minister Narendra Modi for ordering the surgical strike but also referred to some international media reports and a United Nations group's observations, both of which appear to question its authenticity, as he asked the prime minister to 'unmask the Pakistani propaganda'.
Prasad said the government does not take seriously reports of 'sponsored-media', apparently referring to Pakistan army's decision to ferry reporters to the Line of Control to bolster its claim that no surgical strike by the India army occurred there.
India, he said, had briefed ambassadors of many countries and they have taken note of the Indian army's operation.
Maintaining that the AAP believes that surgical strikes did take place, Kejriwal said that in his video message on Monday he had only appealed to Prime Minister Narendra Modi to give a befitting reply.
"I have supported the Prime Minister, applauded the army. I only said that Pakistan is spreading false propaganda in the world that surgical strikes did not happen. We all believe that surgical strikes took place," Kejriwal said on Tuesday.
"Pakistan is spreading the propaganda across the world and international media is running this that surgical strikes did not take place. I had only appealed to the PM that a befitting reply should be given to Pakistan.
"If I said that we have to counter Pakistan's false propaganda then why is the BJP so rattled and scared? We all have to counter Pakistan's propaganda and we should all, irrespective of the party, strengthen PM's hands in this," Kejriwal said.
Senior AAP leader Ashutosh said Pakistan is insulting 'Bharat Mata' and the Indian army through its propaganda, but the BJP is settling score with Kejriwal.
'I am amazed that Ravi Shankar Prasad instead of unmasking Pak Propaganda is questioning AK. Shows BJP's bankruptcy of ideas (sic),' Ashutosh tweeted.
Prasad also targeted senior Congress leader P Chidambaram over his reported comments on the surgical strike and said he was also speaking in Kejriwal's voice.
"Is he also joining the bandwagon of raising doubts over the capacity of out soldiers," the BJP leader questioned.
The Union minister referred to Congress President Sonia Gandhi's statement and her deputy Rahul Gandhi's 'belated' public praise of the prime minister as both the opposition leaders had strongly backed the government's move.
Prasad asked Sonia Gandhi to clarify if Chidambaram's views reflected the party's opinion and if not, then she should restrain such leaders.
The BJP leader also condemned actor Om Puri for insulting remarks against soldiers.
Asked about differing comments of actors over whether Pakistani artistes should be allowed to work in India, he said the country should speak in one voice.