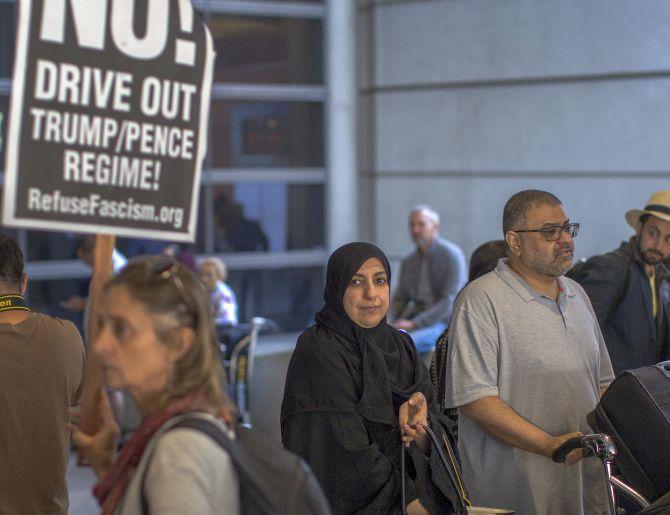 United States President Donald Trump's ban on refugees and travelers from six mainly Muslim countries went into effect from Thursday.
Officials said the travel ban was rolled out across the country as part of its effort to prevent people from Iran, Libya, Somalia, Sudan, Syria, and Yemen from entering the US.
The move comes after the US Supreme Court unanimously ruled that the vast majority of the President's March 6 'Executive Order Protecting the Nation from Foreign Terrorist Entry into the United States' could go into effect.
"As recent events have shown, we are living in a very dangerous time, and the US government needs every available tool to prevent terrorists from entering the country and committing acts of bloodshed and violence. And as the President reiterated following Monday's ruling, his number one responsibility as Commander-in-Chief is to keep the American people safe," said a senior administration official.
The Trump administration said that the ban is necessary to block terrorists from entering the country, but immigrant advocates charged that it illegally singles out Muslims.
The 90-day ban on visitors from six countries will allow exceptions for people with "close family relationships" in the United States, which the government has defined narrowly, excluding grandparents and grandchildren, aunts and uncles and others.
But activists said the government has defined that too narrowly, excluding relationships with grandparents and grandchildren, aunts and uncles and others.
And many were concerned about a possibly chaotic rollout of enforcement of the ban, like that in January when it was first announced.
The Department of Homeland Security, which was heavily criticised for mishandling many arrivals when the ban was first attempted in January, promised a smooth rollout this time.
It stressed that anyone with a valid visa issued before the ban begins would still be admitted, and that all authorised refugees booked for travel before July 6 will also be allowed.
"We expect business as usual at the ports of entry starting at 8 pm tonight," said a DHS official. "Our people are well prepared for this."
IMAGE: Travelers pass protesters on the first day of the the partial reinstatement of the Trump travel ban at Los Angeles International Airport. Photograph: David McNew/Getty Images