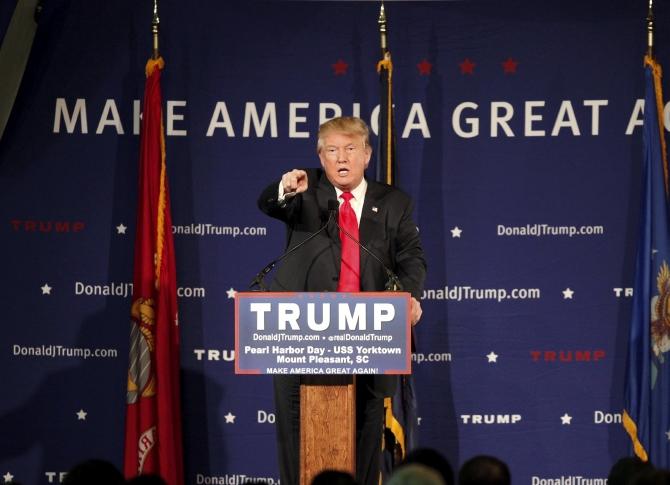 The White House and the Pentagon have denounced Republican presidential aspirant Donal Trump's call for a ban on the entry of Muslims into the United States, saying the anti-Muslim rhetoric undermines America's national security.
Trump's remark to ban Muslims from coming to the US is harmful to national security interest, White House Press Secretary Josh Earnest told media persons.
"His comments aren't helpful to our national security," he said.
"The fact is, the Islamic State is trying to advance narrative that suggests that they represent the religion of Islam in waging a war against the US and the West," Earnest said, adding that, "That narrative is false; it is a fantasy."
Millions of Muslims are on the side of the US and our international coalition in trying to degrade and destroy the terrorist group, he said.
The Pentagon too criticised the comment, saying the remark was "contrary to our national security."
"Anything that bolsters the IS's narrative and pits the US against the Muslim faith is certainly not only contrary to our values, but contrary to our national security," Pentagon Press Secretary Peter Cook told reporters at a separate briefing.
The Homeland Security Secretary said Trump's anti-Muslim rhetoric is harming US national security interest.
What Mr said is deeply offensive. And as the secretary of homeland security said, has consequences for our national security," Earnest said in response to a question.
"We should have a robust debate about foreign policy in this country. But that should be a debate about policy that reflects the values of this country, that are enshrined in our Constitution. What Trump said runs directly counter to those values. It undermines them. It tarnishes them. It is why so many Americans find them offensive," he said.
Trump called for a "total and complete shutdown" of Muslims entering the US, in the wake of a mass shooting in California by a Muslim couple believed to have been radicalised. The remark was the latest in a series of increasingly virulent remarks by Trump in recent weeks.
Image: U S Republican presidential candidate Donald Trump points to a supporter at a Pearl Harbor Day rally aboard the USS Yorktown Memorial in Mount Pleasant, South Carolina. Photograph: Randall Hill/Reuters