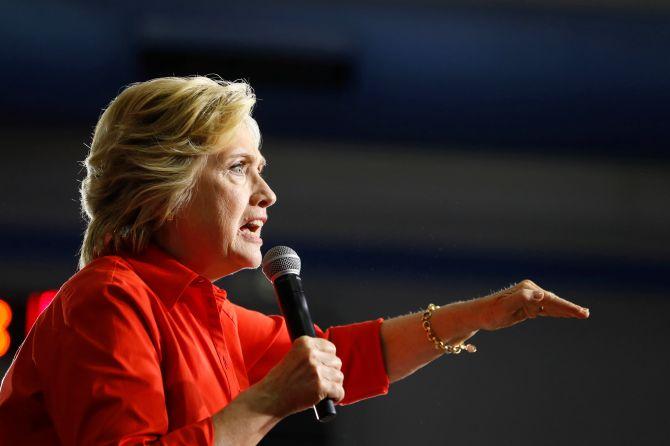 Democratic presidential candidate Hillary Clinton has slammed Donald Trump for his 'absolute allegiance' to Russia that raises 'national security' concerns, prompting her Republican rival to deny having any 'relationship' with Russian President Vladimir Putin.
"We know that Donald Trump has shown a very troubling willingness to back up Putin, to support Putin, whether it's saying that NATO (North Atlantic Treaty Organisation) wouldn't come to the rescue of allies if they were invaded, talking about removing sanctions from Russian officials after they were imposed by the United States and Europe together, because of Russia's aggressiveness in Crimea and Ukraine, his praise for Putin which is I think quite remarkable," she said.
"And for Trump to both encourage and praise Putin despite what appears to be a deliberate effort to try to affect the election, I think, raises national security issues," the Democratic presidential nominee alleged.
Last week, Trump during a news conference had appeared to have asked Russia to find out the missing 30,000 emails of Clinton and release them.
Trump later said he was just kidding and being sarcastic. Clinton, however, did not appear to be convinced by that clarification.
"I think if you take his encouragement that the Russians hack into American e-mail accounts, if you take his quite excessive praise for Putin, his absolute allegiance to a lot of Russian wish-list foreign policy position, his effort then to try to distance himself from that backlash which rightly came not just from Democrats, but Republicans, independents and national security and intelligence experts leads us once again to include he is not temperamentally fit to be president and commander in chief," Clinton said.
Trump, however, refuted Clinton's allegations, saying he has no relationship with Putin.
"I have no relationship with him (Putin)," Trump said, adding that he had praised him the in the past because he had said 'nice' things about him.
His comments came amid scrutiny of the Republican presidential nominee following the leak of nearly 20,000 Democratic National Committee emails.
"He said very nice things about me, but I have no relationship with him. I don't – I've never met him," Trump said.
"I mean he treats me with great respect. I have no relationship with Putin. I don't think I've ever met him. I never met him," Trump reiterated.
The real estate mogul said he has never spoken to Putin on the phone.
IMAGE: Democratic US presidential candidate Hillary Clinton speaks at East High School in Youngstown, Ohio. Photograph: Aaron P Bernstein/Reuters