The US president lauded the announcement on Twitter, writing "Great progress being made but sanctions will remain until an agreement is reached. Meeting being planned!"
Lalit K Jha/PTI reports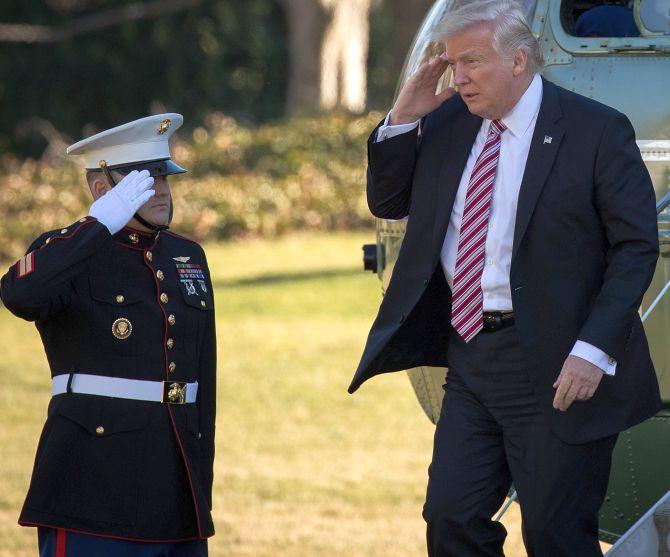 IMAGE: Trump will meet North Korea's Kim Jong-un after having spent the past year making belligerent statements about each other, with the US president mocking Kim as "Little Rocket Man" and pledging to "totally destroy" North Korea and Kim calling the ­American ­president a "dotard" and a "lunatic" and threatening to send nuclear bombs to Washington, DC. Photograph: Drew Angerer/Getty Images
United States President Donald Trump has agreed to meet North Korean leader Kim Jong-un by May, a top South Korean official announced on Friday even as the White House said the two leaders would meet "at a place and time to be determined".
South Korean National Security Adviser Chung Eui-Yong, who led his country's delegation to Pyongyang for talks with the North Korean leaders, made the announcement at the White House hours after he briefed Trump and his national security team.
Reading from a prepared statement, Chung said the North Korean leader has expressed his "eagerness to meet with President Trump as soon as possible."
Chung attributed the North Korean turnaround to Trump's leadership and his maximum pressure policy together with international solidarity.
In his meeting with the North Korean leader, Chung said Trump is committed to denuclearisation of the Korean Peninsula.
"Kim pledged that North Korea will refrain from any further nuclear or missile tests. He understands that the routine joint military exercises between the Republic of Korea and the United States must continue. He expressed his eagerness to meet President Trump as soon as possible," he said.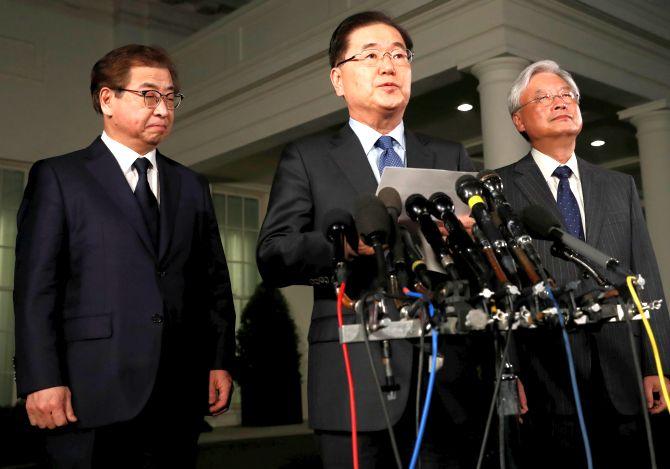 IMAGE: South Korea's National Security Office head Chung Eui-yong, Cho Yoon-je, the South Korean Ambassador to the US and National Intelligence Service chief Suh Hoon, make an announcement about North Korea and the Trump administration outside of the West Wing at the White House in Washington, DC. Photograph: Leah Millis/Reuters
"President Trump appreciated the briefing, and said he would meet Kim Jong-un by May to achieve permanent denuclearisation. The Republic of Korea, along with the United States, Japan, and our many partners around the world, remain fully and resolutely committed to the complete denuclearisation of the Korean Peninsula," Chung said.
"Along with Trump, we are optimistic about continuing a diplomatic process to test the possibility of a peaceful resolution," he said.
"The Republic of Korea, the United States, and our partners stand together in insisting that we not repeat the mistakes of the past, and that the pressure will continue until North Korea matches its words with concrete actions," the South Korean national security adviser said.
Reacting to the announcement White House Press Secretary Sarah Sanders said, "President Trump greatly appreciates the nice words of the South Korean delegation and President Moon. He will accept the invitation to meet with Kim Jong un at a place and time to be determined."
She added that the sanctions on the reclusive nation must remain.
"We look forward to the denuclearisation of North Korea. In the meantime, all sanctions and maximum pressure must remain," Sanders said.
According to a senior administration official, Trump may meet the North Korean leader in couple of months.
Congressman Ed Royce, Chairman of the House Foreign Affairs Committee said Kim's desire to talk shows sanctions the administration has implemented are starting to work.
"We can pursue more diplomacy, as we keep applying pressure ounce by ounce. Remember, North Korean regimes have repeatedly used talks and empty promises to extract concessions and buy time," he said.
"North Korea uses this to advance its nuclear and missile programs. We've got to break this cycle. The United States and South Korea must stand shoulder-to-shoulder in applying the sustained pressure needed to peacefully end this threat. And Beijing must do its part," Royce said.
Testing times
Here's a brief timeline of North Korea's nuclear tests since 2016
>> January 2016
North Korea announced that it has conducted a "successful" hydrogen bomb test, which would be its first test of such a device. The announcement came shortly after an "earthquake" with an epicentre close to Punggye-ri nuclear test site was registered.
>> September 2016
North Korea conducted a fifth nuclear test, its most powerful to date, South Korean military sources said monitors detected a 5.3-magnitude "artificial earthquake" near the North's main nuclear site.
>> April 2017
North Korea fired four ballistic missiles into the sea, as close as 300 km to Japan's north-west coast.
>> May 2017
North Korea claimed that it now has the ability to deliver nuclear warheads to the US mainland, with the successful test launch of a mid- to long-range missile. US Pacific Command characterised the test missile's trajectory as "not consistent with an intercontinental ballistic missile".
>> July 2017
North Korea carried out two tests of its Hwasong 14 ICBM. The first test, on 4 July, put the weapon's estimated maximum range at 9,700km, allowing it to theoretically deliver a small warhead to the mainland United States. A second test, on 28 July, indicated that North Korea could potentially strike at New York or Los Angeles.
>> August 2017
North Korea achieved its goal of producing a miniaturised nuclear warhead which could be attached to long range missiles, it has been reported.
>> November 2017
The device is theoretically capable of hitting anywhere within the continental USA, although there is no evidence that it can do so reliably while carrying a North Korean nuclear payload.