Hundreds of Donald Trump supporters and protestors clashed outside an election rally of the presumptive Republican presidential nominee in San Diego as police in riot gear and wielding batons arrested 35 people
in the second scuffle in three days to hit his campaign.
People from both sides screamed at each other and threw water bottles, as the police tried to control the situation, firing pepper-balls.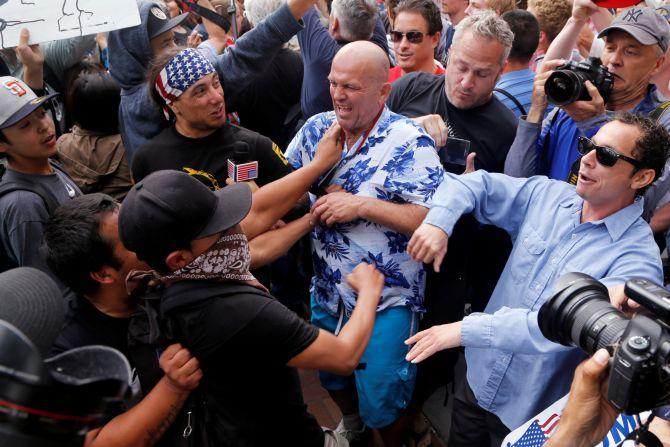 IMAGE: Trump supporters and anti-Trump demonstrators clash outside a campaign event for US presidential candidate Donald Trump in San Diego, California. Photograph: Jonathan Alcorn/Reuters
The clash between pro and anti-Trump groups occurred after the Republican leader ended his speech in San Diego in the western California state on Friday, with several people throwing stones and plastic bottles, some that hit police officers.
Police were deployed in riot gear as the billionaire from New York addressed a massive rally at a convention centre.
After issuing orders to the crowd of roughly 1,000 to disperse, police began forcefully and aggressively pushing protesters -- who were waving Mexican flags and holding anti-Trump signs -- checking them with their batons. Some protestors also scaled barriers, according to reports.
At least 35 people were arrested, police said, adding that no property damage was reported and no injuries were reported.
"Crowd behaviour has become unlawful. An unlawful assembly has now been declared. It is illegal to remain in the area," the San Diego Police said in a situational update, adding its forces would be deployed till late in the night.
Later, Trump appreciated the police for handling the "thugs". "@SanDiegoPD- Fantastic job on handling the thugs who tried to disrupt our very peaceful and well attended rally. Greatly appreciated!" he tweeted.
At his rally, Trump also responded to US President Barack Obama's comments a day ago that world leaders are rattled by his campaign rhetoric and assured his supporters that he would get along well with foreign leaders.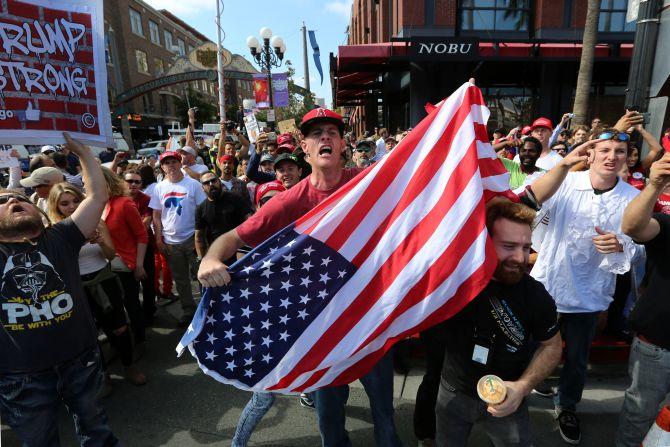 IMAGE: Supporters of Donald Trump shout at anti-Trump demonstrators outside a campaign event. Photograph: David McNew/Reuters
"I happen to be a nice person, folks. I'll get along great. I will get along so great with these countries. I will get along so great," Trump told thousands of his supporters.
"He (Obama) said today that our trading partners and countries that we have relationship with, they're rattled. I said, "Yay, oh, that's so good," Trump said.
Someone grabbed a man's "Make America Great Again" hat and burned it, according to San Diego Tribune.
Officers in helmets, masks, pads and with long wooden batons massed in lines, then moved slowly toward the unruly protesters. By evening, police had managed to move and disperse the crowd, and few were left, the daily reported.
Trump was in the city near the Mexican border to hold a rally ahead of the 7 June California primary and in his San Diego rally pledged to build a border wall to keep out illegal immigrants.
This is the second anti-Trump protest in three days. His rally in New Mexico on Tuesday turned violent as protesters toppled barricades and threw rocks, burning T-shirts and plastic bottles at police officers, injuring several people.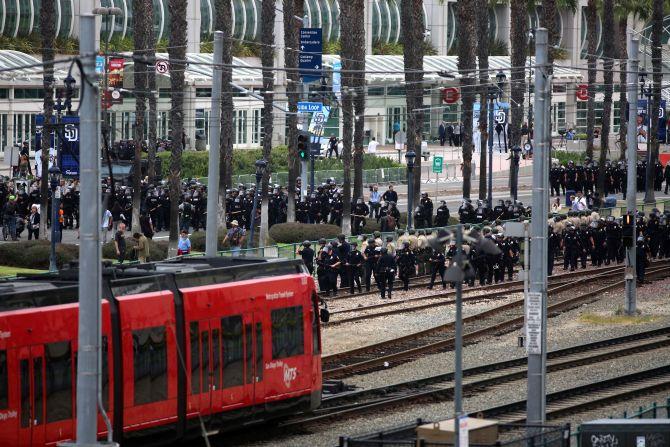 IMAGE: Police advance down the street and trolly tracks to force demonstrators away after a campaign event. Photograph: David McNew/Reuters
Earlier in Fresno, Trump denied that there was a major drought affecting the state, saying instead that when he becomes president he will "start opening up the water".
"Great rally in Fresno, California- great crowd! Thank you!" he said in another tweet.
At the San Diego rally, Trump said the US under his presidency would start winning again.
"Every single country no matter what -- name a country -- we lose. We don't win anymore. We're going to start winning. We're going to win with trade. We're going to win with our military. We're going to start winning again," he said amidst applause.
Trump alleged that the countries like Germany, Saudi Arabia, Japan, South Korea, who are being protected by the US are not paying money.
"Then you look at the NATO countries -- 28 total, many of them aren't living up to their obligations," he said. "They have been abusing us. They have been abusing us. This isn't 40 years ago when we could have done whatever we want."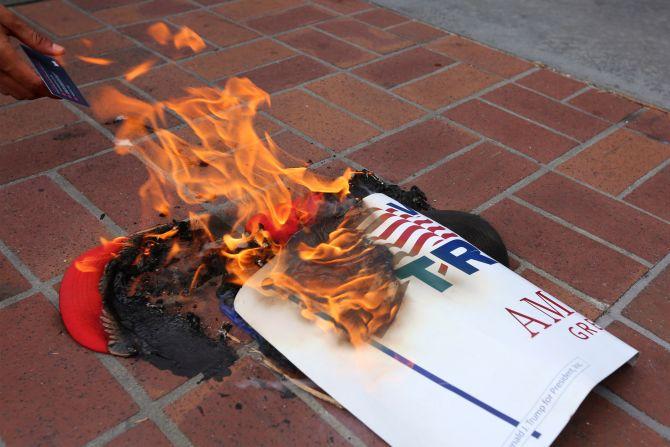 IMAGE: Anti-Trump demonstrators burn Donald Trump's campaign items outside a campaign event. Photograph: David McNew/Reuters
Continuing with his criticism of Hillary Clinton, Trump said the Democratic presidential frontrunner and former secretary of state is a "very boring" speaker.
"I watched Hillary Clinton last night, which was hard to do because she's a very boring speaker," he said.
"I will not say because it's not politically correct and it's not a nice thing to say, so I will not say that she shouts into the microphone and it drives everybody crazy. So I won't say that.
"But I found it very hard to watch. And then she lies. Now, you know, I called somebody a liar, but I don't say that anymore because that person is now in the past. I say that person is in the past. And with Hillary, we say "Crooked Hillary," he said.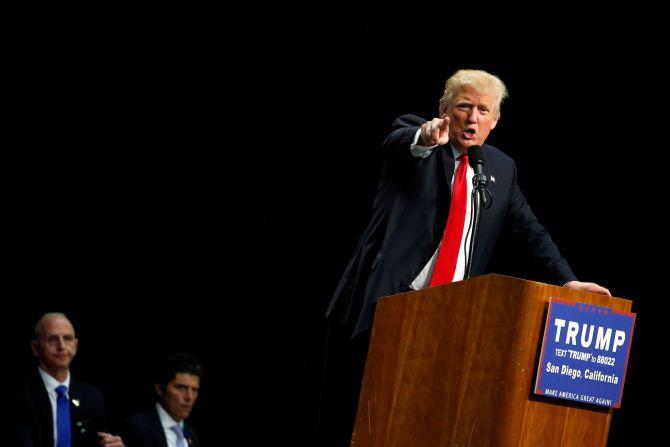 IMAGE: Republican US presidential candidate Donald Trump addresses a rally in San Diego, California. Photograph: Jonathan Ernst/Reuters
"But I've got to add another word because I never saw anything like this last night. She was saying that "I want Japan to arm with nuclear weapons." I never said that. She was saying, "I love the dictator in North Korea." I don't love the dictator -- bad guy, OK? Bad guy.
"She was saying all sorts of things so bad, and so false, total lies. And we're not going to let her get away with it. We're not going to let her get away," Trump asserted.
"Take a look at what's going on with our military that we love. We can't beat ISIS. We're going to beat Islamic State. We're going to beat them quickly. We're going to knock the hell out of them. We shouldn't have been there in the first place, but we're going to knock the hell out of them. And we have to rebuild our country," he said.