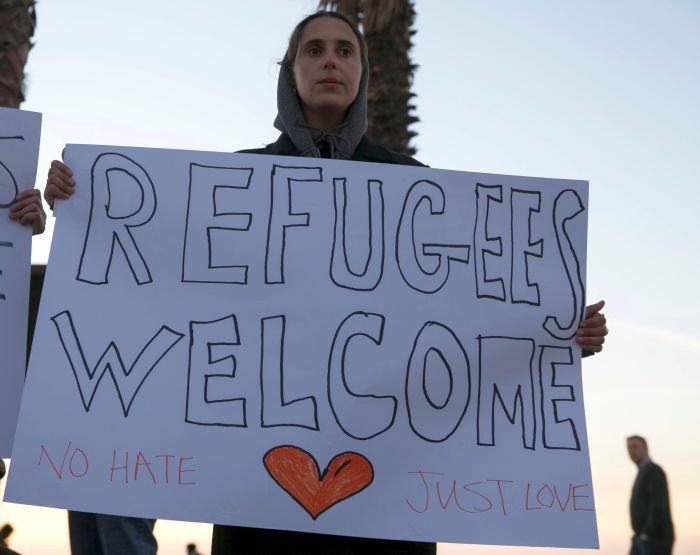 IMAGE: A protester holds a placard during a rally supporting refugees worldwide and in reaction to Trump's travel ban. Photograph: Baz Ratner/Reuters
The United States has decided to curtail the number of refugees it would accept next year to 45,000, half of the cap in 2016, as the humanitarian groups decried the move terming it as cruel.
Secretary of State Rex Tillerson will brief the Congress on this, a US government official told reporters during a conference call on Wednesday.
A presidential determination is expected to be issued in the coming days.
The regional breakdown will be: Africa, 19,000; East Asia, 5,000; Europe and Central Asia, 2,000; Latin America and the Caribbean, 1,500; Near East South Asia, 17,000.
"The security and safety of the American people is our chief concern," a government official explained.
Since 1975, the United States has welcomed more than 3 million refugees from all over the world.
"While maintaining the United States leadership role in humanitarian protection, an integral part of this mission is to ensure that refugee resettlement opportunities only go to those who are eligible for such protection and who are not known to present a risk to the safety and security of our country," the official said.
The official noted that the refugee resettlement is only one part of the United States' response to the crisis of forced displacement around the world.
"The United States also remains the world's leading donor of humanitarian assistance, providing over $7 billion (Rs 46,109 crore) in humanitarian assistance around the world last year," the official said.
In 2017, the United States has provided more than $1.4 billion (Rs 9,216 crore) in humanitarian assistance for the Syria crisis, and more than $581 million (Rs 3,827 crore) for the Iraq crisis.
"We have provided nearly $2.5 billion (Rs 16,467 crore) for people from countries facing famine. And we have provided nearly $95 million (Rs 625 crore) for displaced persons in Burma and the region," the official added.
A decision in this regard drew sharp reaction from lawmakers and human rights activists.
"A refugee admissions ceiling of 45,000 is completely unacceptable and does not reflect the needs of the worldwide humanitarian crisis.
According to the United Nations High Commissioner for Refugees, there are 22.5 million refugees and 65.6 million forcibly displaced people worldwide," said Senator Dianne Feinstein.
Breakdown of refugees
Africa -- 19,000
East Asia -- 5,000
Europe and Central Asia -- 2,000
Latin America and the Caribbean -- 1,500
Near East South Asia -- 17,000
Such a move is inhumane, said Senator Tom carper.
"The founding fathers of the United States of America -- a country of immigrants -- fought to create a democracy that would be an example of hope and freedom for the world.
US President Trump's move to drastically cut back the number of refugees we'll admit into our country flies in the face of those principles," he said.
"This administration's efforts to isolate us from our allies around the globe only serve to further this misconception.
"Refugees make great contributions to our economy and our society, and communities across the country, if given the chance, would welcome them with open arms," he said.
At a time when world is facing the worst refugee crisis in history, it is unconscionable that the Trump Administration is setting the lowest refugee ceiling in history, said Senator Dick Durbin.
The Trump Administration's decision to cut refugee admissions to an historic low of 45,000 is an affront to the United States' legacy as a protector of oppressed people, said Congressmen John Conyers and Zoe Lofgren in a joint statement.
"These drastic measures are completely unnecessary, because according to national security experts, our refugee program's current vetting process is already extremely
effective in identifying and mitigating threats to our national security.
Reducing the numbers of refugees is nothing short of a back-door Muslim Ban," said Gadier Abbas from CAIR.
By slashing our refugee resettlement program to historic lows, President Trump is abusing executive power to change the very fabric and face of our American story, said Elica Vafaie, from Asian Americans Advancing Justice.
According to Avideh Moussavian, from National Immigration Law Center, the drastic reduction in the number of refugees by the Trump Administration "shamefully puts lives at risk" and is using public policy to discriminate against Muslims in the US.