Republican presidential nominee Donald Trump has slammed US President Barack Obama for holding election rallies in support of his Democratic rival Hillary Clinton, describing him as campaigner-in-chief.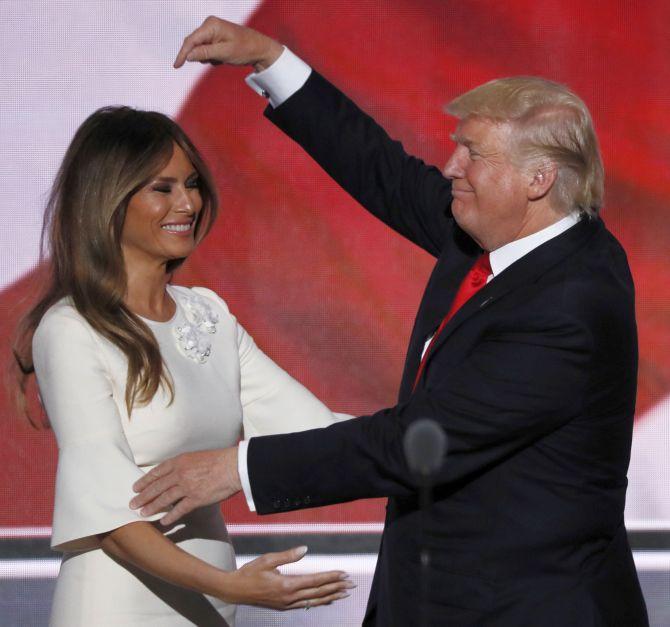 "Because of our failed leaders, including from the campaigner-in-chief Obama -- this guy does nothing but campaign," Trump said at an election rally in Salema, North Carolina on Thursday.
According to police, the rally was attended by nearly 18,000 people, considered to be big by American standards.
"You know I said the other day, I said, 'Let him work on bringing our jobs back from Mexico who stole our jobs. Let him work on building up our very depleted, you know it better than anybody, our depleted military,'" he said.
"Instead, he is campaigning with somebody who is under the FBI investigation," he alleged.
Obama has hit a campaign blitz this week. He addressed two election rallies in Florida yesterday. Both the events attracted thousands of people, with his supporters standing in long ques for hours to listen to him.
The development seems to have unnerved the Trump Campaign, given the kind of increased attack against him by Republican leaders.
"We need a president that's gonna go in and do their job. And I just left, by the way, Miami. And in leaving, I see Air Force One. So I said to myself I wonder who that could be. And it's our president. And he's down here campaigning for crooked Hillary," Trump told his supporters in Jacksonville.
"Now why, why isn't he back in the office, sometimes referred to as the Oval Office? Why isn't he back in the White House bringing our jobs back? And helping our veterans? Right? Why, why isn't he back working? He's campaigning every day, and I actually think considering that she is under criminal investigation, I think he's actually got a conflict," he said.
Obama has a number of election rallies scheduled over the next few days including those in North Carolina, Pennsylvania, New Hampshire and Florida.
"We are led by stupid people. Ok? We are led by stupid people, and one of them is campaigning just too much," Trump said.
Meanwhile, in a rare campaign speech, Trump's wife Melania strongly defended her husband, saying he would make 'America great again' and she would fight online bullying if she becomes first lady.
Speaking at a rally outside Philadelphia, Melania said, "I have come here to talk about this man I have known for 18 years. And I have come here today to talk about our partnership, our family, and what I know for sure in my heart, about this man, who will make America great again."
Melania in her speech touched on family, her marriage, the campaign experience and the goals she has as first lady.
"Surrounded by our family, and speaking to an audience of millions, Donald promised to campaign on behalf of those who feel the system is broken and does not work for them, those who just want a fair shake, an opportunity for a better education, a better-paying job, a better future," she said.
"He pledged to restore integrity to Washington, and respect for America abroad," she said.
Melania said if she becomes first lady, she will improve a social media culture that "has gotten too mean and too rough, especially to children and teenagers".
She was addressing her first campaign rally after the Republican National Convention in Cleveland in July.
"People have asked me, if Donald is the President, what kind of first lady will you be?" she said.
"It is never OK when a 12-year-old girl or boy is mocked, bullied or attacked. It is terrible when it happens on the playground, and it is absolutely unacceptable when it is done by someone with no name hiding on the internet. We have to find a better way to talk to each other," she said.
"We must find better ways to honour and support the basic goodness of our children, especially in social media," she said.
"It will be one of the main focuses of my work, if I am privileged enough to become your first lady," she added.
"I want our children in this country, and all around the world, to live a beautiful life, to be safe and secure. To dream freely of love and a family of their own someday. We need to teach our youth American values. Kindness, respect, compassion, charity, understanding, cooperation," Melania said.
Image: Melania Trump appears on stage after US Republican presidential nominee Donald Trump speech at the Republican National Convention in Cleveland, Ohio, US. Photograph: Mike Segar/Reuters