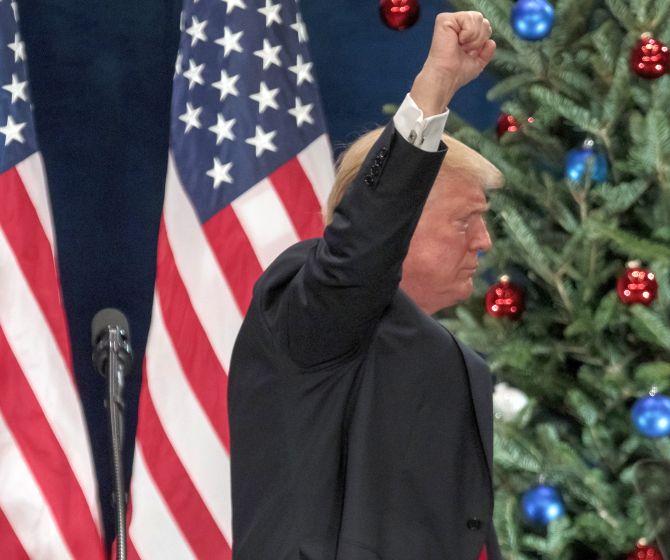 United States President Donald Trump sparked outrage on Thursday after he retweeted three inflammatory videos from a British far-right account rife with anti-Muslim content.
The videos -- depict purported Muslims assaulting people and, in one video, smashing a statue of the Virgin Mary -- were originally posted by the deputy leader of the far-right group Britain First Jayda Fransen. Britain First, which styles itself as a political party, has been condemned by campaigners as a far-right extremist group.
Trump, who has previously warned that immigration from Muslim-majority nations threatens European and US security, frequently retweets other messages whose political views he finds favourable. However, his retweets on Wednesday were immediately met with outrage in the United Kingdom and resulted in a rare rebuke from the British government toward its American ally.
United Kingdom Prime Minister Theresa May's spokesman in a statement said it was wrong to retweet controversial anti-Muslim videos.

@Theresa_May, don't focus on me, focus on the destructive Radical Islamic Terrorism that is taking place within the United Kingdom. We are doing just fine!

The Downing Street statement said Britain First sought to divide communities through its use of "hateful narratives which peddle lies and stoke tensions".
"It is wrong for the president to have done this," the spokesperson said.
However, Downing Street said plans for a state visit by the US president remain in place.
The statement came soon after Britain's Opposition leader, Jeremy Corbyn, branded Trump's tweets "abhorrent and dangerous".
The Labour Party leader and many of his MPs took to social media soon after news emerged of Trump's retweets of inflammatory anti-Muslim videos by Britain First.
"I hope our future government will condemn far-right retweets by Donald Trump. They are abhorrent, dangerous and a threat to our society," Corbyn said.
White House press secretary Sarah Sanders defended Trump's retweets, telling reporters that he shared them to start a conversation about border security and immigration.
"I think his goal is to promote strong borders and strong national security," Sanders told a small group of reporters.
Sanders also downplayed questions about whether the videos were authentic, because "the threat is real."
"That is what the President is talking about, that is what the President is focused on, is dealing with those real threats, and those are real no matter how you look at it," she said.
-- With inputs from PTI and ANI
Photograph: Whitney Curtis/Getty Images