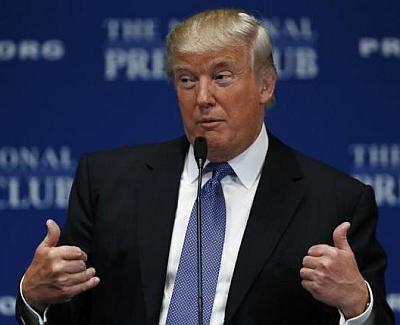 Presumptive Republican presidential nominee Donald Trump has backed Brexit, saying the UK would be "better off without" the European Union, a stand contrary to the views of US President Barack Obama.
However, Trump said it was his personal view and he would want the country to make its own decision.
"I think the migration has been a horrible thing for Europe. A lot of that was pushed by the EU," Trump told Fox News.
"I would say that they're better off without it, personally, but I'm not making that as a recommendation. Just my feeling," the White House aspirant said.
Trump's comments came two weeks after President Obama urged Britain to stay in the EU when it votes on June 23.
Earlier this week, Trump had criticised Obama for supporting Cameron in his campaign for Britain to remain in the EU.
"I know Great Britain very well. I know, you know, the country very well. I have a lot of investments there. I would say that they're better off without it. But I want them to make their own decision," the 69-year-old tycoon-turned- politician said.
Trump's comments carry weight as he is now alone in the White House race in the Republican party and his being crowned as the presidential nominee at the Cleveland convention in July is now only an formality.
Britain will vote to leave the EU, termed as Brexit, in a June 23 referendum.
British Prime Minister David Cameron on Thursday stood by his criticism of Trump's vow to ban all Muslims from entering the United States.
However, he said the billionaire property tycoon "deserves our respect" for his victory in one of the most contentious nomination battles in generations.
© Copyright 2022 PTI. All rights reserved. Republication or redistribution of PTI content, including by framing or similar means, is expressly prohibited without the prior written consent.