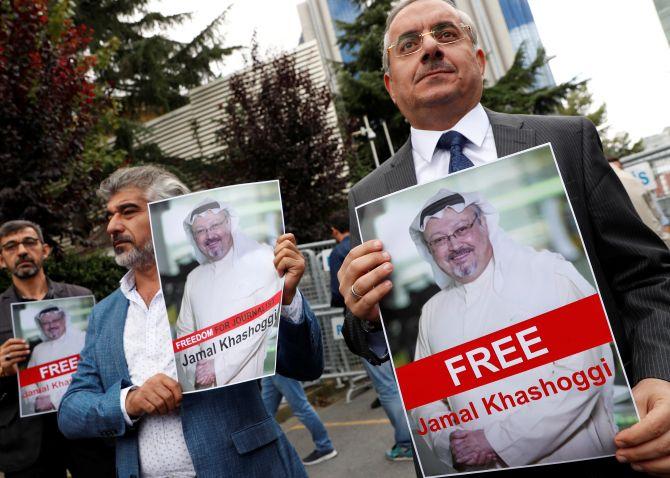 United States President Donald Trump said on Tuesday that Saudi Arabia has started a full investigation into the disappearance of journalist Jamal Khashoggi, who hasn't been seen since entering the Saudi consulate in Istanbul two weeks ago.
Soon after talking with Saudi Crown Prince Mohammed bin Salman over phone, Trump in a tweet said that answers related to Khashoggi's disappearance would be forthcoming shortly.
"Just spoke with the Crown Prince of Saudi Arabia who totally denied any knowledge of what took place in their Turkish Consulate," Trump said.
Trump tweeted that the Saudi Crown Prince "told me that he has already started, and will rapidly expand, a full and complete investigation into this matter. Answers will be forthcoming shortly."
Khashoggi, a dissident Saudi journalist, who wrote for The Washington Post and lived in US as legal permanent resident was last seen entering the Saudi Consulate in Istanbul. Turkish investigative agencies have said that he was brutally killed inside the consulate. They claim to have audio and video evidence of it.
So far Saudi Arabia has denied the allegations and said that Khashoggi left the consulate. Some US media reports said that Saudi Arabia is planning to come out with a repot in which it is expected to say that the interrogation of Khashoggi went wrong and was killed in the process.
Trump, under tremendous pressure from lawmakers, has warned of severe punishment. However, he has pushed back again any effort to cancel the mega USD 110 billion arms deal with Saudi Arabia asserting that such a move will hurt US economy and jobs.
Earlier, Trump said that "I have no financial interests in Saudi Arabia" — but in fact he has boasted in the past that "I make a lot of money with them."
Trump's attempt to distance himself from profiting from Saudi Arabia is undercut by a long record showing deals his companies made with that country's government and citizens, media reports said.