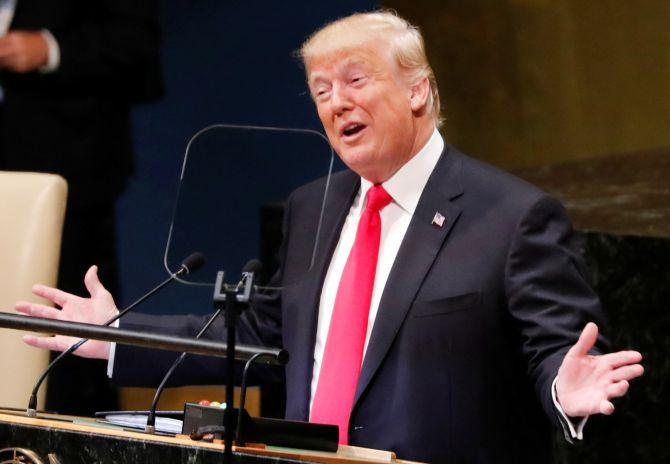 President Donald Trump on Tuesday touted American sovereignty as he addressed world leaders at the United Nations General Assembly, saying the United States rejects the ideology of 'globalism' and embraces the doctrine of 'patriotism' and will always choose independence over global governance.
"America is governed by Americans. We reject the ideology of globalism, and we embrace the doctrine of patriotism. Around the world, responsible nations must defend against threats to sovereignty not just from global governance, but also from other, new forms of coercion and domination," Trump said in his second address to the UN General Assembly's annual General Debate that opened on Tuesday.
He said the US believes that when nations respect the rights of their neighbours and defend the interests of their people, they can better work together to secure the blessings of safety, prosperity and peace.
As leaders from 193 UN member gathered in the iconic UNGA hall for the annual high-level session, Trump said each UN member and its leader is the emissary of a distinct culture, a rich history and a people bound together by ties of memory and tradition.
"That is why America will always choose independence and cooperation over global governance, control, and domination. I honour the right of every nation in this room to pursue its own customs, beliefs, and traditions. The United States will not tell you how to live, work, or worship. We only ask that you honour our sovereignty in return," he said.
Trump also blasted unfair trade practices around the world, saying America believes trade must be fair and reciprocal and the US will no longer be taken advantage of by anyone.
"For decades, the United States opened its economy, the largest by far on Earth, with few conditions. We allowed foreign goods from all over the world to flow freely across our borders," he said.
He accused nations of not granting America free and reciprocal access to their markets in return.
"Even worse, some countries abused their openness to dump their products, subsidise their goods, target our industries, and manipulate their currencies to gain unfair advantage over our country," he said, adding that this resulted in the US trade deficit ballooning to nearly $800 billion a year.
"For this reason we are systematically renegotiating broken and bad trade deals," he said as he cited last month's 'groundbreaking' US-Mexico trade agreement.
Hitting out at China, Trump said his administration has announced tariffs on another $200 billion in Chinese-made goods, bringing the total so far to $215 billion.
"I have great respect and affection for the president of China, but I have made clear that our trade imbalance is just not acceptable. The market distortions and the way that they deal cannot be tolerated," he said.
Trump, however, lauded India's efforts to lift millions of its citizens out of poverty as he addressed world leaders at the 73rd session of the UNGA.
"There is India, a free society (of) over a billion people, successfully lifting countless millions out of poverty and into the middle class," Trump said.
In his about 35-minute address, he said over the years, history has transpired in the halls of the UN General Assembly.
"We think of the many before us who have come here to address the challenges of their nations and of their times and our thoughts turn to the same question that ran through all their speeches, resolutions and through every word and every hope."
"It is the question of what kind of world will we leave for our children and what kind of nations they will inherit," Trump said.
He said the dreams that fill the UNGA hall today are as diverse as the people who have stood at this podium and as varied as the countries represented in the United Nations. "It really is something. It really is great great history."
Trump also cited Saudi Arabia's bold new reforms and Israel 'proudly celebrating' its 70th anniversary as a thriving democracy in the Holy Land.
Trump thanked North Korean leader Kim Jong Un for his 'courage' and the steps he has taken towards the pursuit of a denuclearised Korean Peninsula.
He said that in the last one year, the US has, with support from many countries like South Korea, Japan and China, 'engaged with North Korea to replace the spectre of conflict with a bold and new push for peace'.
Trump referred to his historic summit with the North Korean leader in Singapore in June.
"We had highly productive conversations and meetings and we agreed that it was in both countries interest to pursue the denuclearization of the Korean Peninsula."
Since that meeting, Trump said he has seen a 'number of encouraging measures' that few could have imagined only a short time ago.
However, Trump evoked laughter as he boasted about his administration's accomplishments in his speech.
"Today, I stand before the United Nations General Assembly to share the extraordinary progress we have made. In less than two years, my administration has accomplished more than almost any administration in the history of our country. So true," Trump said at the top of his speech.
His remarks elicited laughter from the world leaders gathered.
"Didn't expect that reaction but that's okay," Trump responded, as the delegates in the UNGA hall laughed and clapped.
Trump said America's economy is booming like never before and since his election, the US has added $10 trillion in wealth.