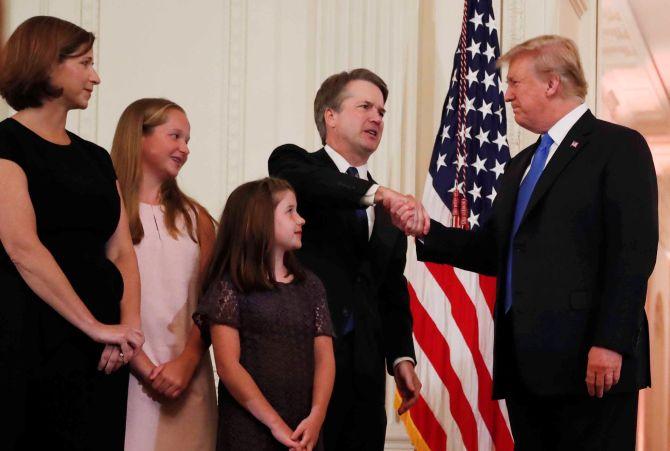 United States President Donald Trump on Monday nominated conservative Brett Kavanaugh as the Supreme Court Judge to succeed Justice Anthony Kennedy, who announced his retirement recently.
Trump picked Justice Kavanaugh from his original list of 25 judges, which also included prominent Indian-American judge Amul Thapar, from which he had said he would nominate for any vacancy in the Supreme Court.
Announcing Kavanaugh's nomination from the White House, Trump described the 53-year-old from Maryland, currently a judge in the US Court of Appeals for the District of Columbia Circuit, as one with 'impeccable credentials and one of the finest legal minds of our times'.
Kavanaugh's nomination though needs to be confirmed by the Senate, which is bitterly divided over party lines.
Justice Kennedy, 81, had announced his retirement on June 27 after serving the federal judiciary for 43 years, 30 of those on the Supreme Court.
He met Trump at the White House soon after he told his colleagues that July 31 would be his last day at the apex court.
"Tonight it is my honour and privilege to announce that I will nominate Judge Brett Kavanaugh to the United States Supreme Court," Trump said.
"Judge Kavanaugh has impeccable credentials, unsurpassed qualifications, and a proven commitment to equal justice under the law. Throughout legal circles, he is considered a judge's judge, a true thought leader among his peers," he said.
Trump and Judge Kavanaugh were joined on the podium by his wife Ashley and their two daughters, Margaret and Liza.
First Lady Melania Trump was seated in the first row of the East Room of the White House where the President announced his nomination.
The nomination of Judge Kavanaugh comes after a selection process marked by a historic degree of transparency, including the President's public disclosure of a list of 25 highly qualified potential nominees to the Supreme Court.
Serving as a judge on the US Court of Appeals for the District of Columbia Circuit since 2006, he authored more than 300 opinions, including 11 that have been affirmed by the Supreme Court.
"He's a brilliant jurist with a clear and effective writing style, universally regarded as one of the finest and sharpest legal minds of our time. And just like Justice Gorsuch, he excelled as a clerk for Justice Kennedy. That's great," the President said.
"This incredibly qualified nominee deserves a swift confirmation and robust bipartisan support," Trump said.
Prior to becoming a judge, he served in the George W Bush administration, first as an associate counsel and then senior associate counsel, and subsequently as assistant to the president and the staff secretary.
A graduate of Yale College and Yale Law School, Judge Kavanaugh clerked on the Supreme Court for Justice Kennedy, and for judges on the Third and Ninth Circuit Courts of Appeals.
"I am deeply honoured to fill his seat in the Supreme Court," said Judge Kavanaugh.
"My judicial philosophy is straightforward. A judge must be independent and must interpret the law, not make the law. A judge must interpret statutes as written and must interpret the Constitution as written, informed by history and tradition and precedent," he said.
Praising Trump, he said that throughout the process, he witnessed firsthand the President's appreciation for the vital role of the American judiciary.
"No president has ever consulted more widely or talked with more people from more backgrounds to seek input about a Supreme Court nomination," he said.
Judge Kavanaugh said from tomorrow he would begin meeting members of the Senate, which plays an essential role in the process, and tell each senator that he 'reveres the Constitution'.
"I believe that an independent judiciary is the crown jewel of our constitutional republic," he remarked.
"If confirmed by the Senate, I will keep an open mind in every case and I will always strive to preserve the Constitution of the US and the American rule of law," he said.
Justice Kavanaugh has also served as a Counsel for the Office of Independent Counsel under Ken Starr and as a Partner at Kirkland & Ellis, LLP.
He has earned a reputation of a brilliant jurist with impeccable legal credentials, and he is universally respected for his intellect, as well as his ability to persuade and build consensus.