Rex Tillerson, ExxonMobil CEO, was on Tuesday tapped by United States President-elect Donald Trump as his Secretary of State to "reverse years of misguided foreign policies" that weakened America's security and standing in the world, amid bipartisan concerns over the veteran oilman's close ties with Russian President Vladimir Putin.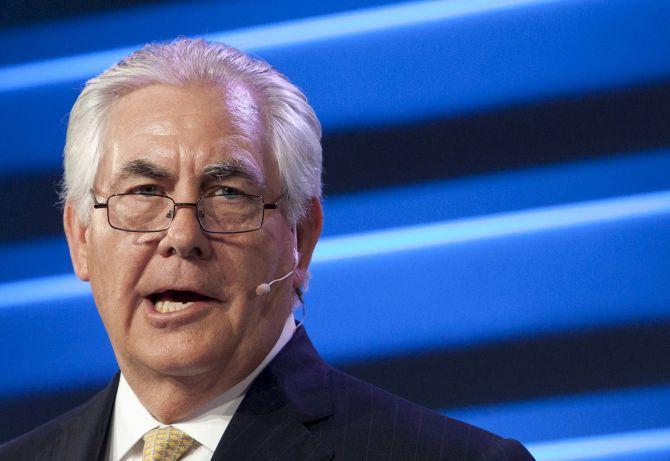 "Rex Tillerson's career is the embodiment of the American dream. Through hard work, dedication and smart deal making, Rex rose through the ranks to become CEO of ExxonMobil, one of the world's largest and most respected companies," Trump said in a statement.
Among the most accomplished business leaders and international deal-makers in the world, 64-year-old Tillerson has spent his career protecting the jobs of his employees, who number over 70,000, the presidential transition team said.
Guiding operations around the world that include more than 200 offices, Tillerson knows how to manage a global organisation and successfully navigate the complex
architecture of world affairs and diverse foreign leaders, it argued.
"As Secretary of State, he will be a forceful and clear-eyed advocate for America's vital national interests, and help reverse years of misguided foreign policies and actions that have weakened America's security and standing in the world," the statement said.
"His tenacity, broad experience and deep understanding of geopolitics make him an excellent choice for Secretary of State," Trump said, adding that he will promote regional stability and focus on the core national security interests of the United States.
"Rex knows how to manage a global enterprise, which is crucial to running a successful State Department, and his relationships with leaders all over the world are second to none. I can think of no one more prepared, and no one more dedicated, to serve as Secretary of State at this critical time in our history," Trump said.
Tillerson said he shares Trump's vision for restoring the credibility of the United States' foreign relations and advancing American national security.
"We must focus on strengthening our alliances, pursuing shared national interests and enhancing the strength, security and sovereignty of the United States," he said.
A native Texan Tillerson began his career at Exxon Company, in 1975 as a production engineer. He went on to become the company's CEO in 2006.
Like Trump, Tillerson has no formal foreign policy experience, but has built close relationships with many world leaders by closing massive deals across Eurasia and the Middle East on behalf of the world's largest energy company.
Tillerson's nomination could face intense scrutiny in the Senate due to his close ties with Putin. Trump, who during his presidential campaign praised Putin, wants to improve US' relationship with Russia which soured in 2014 when Kremlin annexed Crimea.
There is bipartisan concerns over his nomination after CIA in a secret assessment indicated that Russia intervened by hacking into the Democratic National Committee websites to help Trump win in the 2016 presidential elections, a report strongly refuted by the President-elect's transition team.
According to media reports, intelligence agencies have identified individuals with connections to the Russian government who provided WikiLeaks with thousands of hacked emails from the Democratic National Committee and others, including Hillary Clinton's campaign chairman.
Tillerson was awarded the Order of Friendship by Putin in 2012 and had lashed out against the sanctions on Russia at a shareholders meeting in 2014.
The secretary of state is in effect the top US diplomat responsible for enacting the government's foreign policy.
Tillerson was originally a dark horse for the secretary of state nomination, but emerged from a lengthy public interview and vetting process that included better-known quantities like former New York Mayor Rudy Giuliani, 2012 Republican nominee Mitt Romney and Senator Bob Corker, chairman of the Senate Foreign Relations committee.
Tillerson's confirmation hearing would be held in early January.
Should Tillerson not win confirmation, it would be an early setback for Trump's presidency. A Cabinet nominee hasn't been rejected by the Senate since 1989, and Trump will need Republicans to coalesce around Tillerson.
He is a member of the Society of Petroleum Engineers and a trustee of the Center for Strategic and International Studies, a top American think-tank.
Corker, Chairman of the powerful Senate Armed Services Committee welcomed his nomination.
"I very much appreciated President-elect Trump calling me last night to let me know that he would be nominating Rex Tillerson for Secretary of State," said Corker.
"Mr Tillerson is a very impressive individual and has an extraordinary working knowledge of the world. I congratulate him on his nomination and look forward to meeting with him and chairing his confirmation hearing," he added.
Photograph: Daniel Kramer/Reuters
© Copyright 2021 PTI. All rights reserved. Republication or redistribution of PTI content, including by framing or similar means, is expressly prohibited without the prior written consent.