Singapore PM Lee Hsien Loong says the country will spend 20 million dollars to host the summit.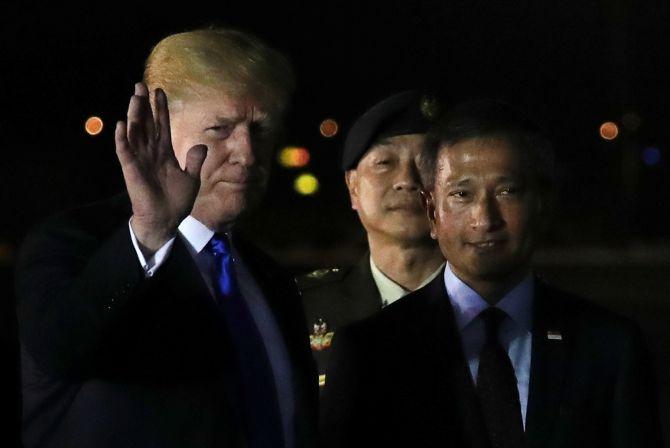 Less than six months ago United States President Donald Trump and North Korean leader Kim Jong Un traded insults, flaunted their military might and threatened each other with nuclear annihilation. Now things seems to have changed dramatically with the two leaders ready to meet.
When they finally come face to face at a specially prepared hotel conference room on the island resort of Sentosa in Singapore on Tuesday, it will be the first time a North Korean leader has met a sitting US president.
Both the leaders arrived in Singapore on Sunday, with Trump reaching hours after Kim.
The North Korean leader landed in Singapore in an Air China 747 that touched down at Changi Airport early on Sunday.
He was received by Singapore's Minister for Foreign Affairs, Vivian Balakrishnan at the airport.
In a tweet, Balakrishnan posted an image greeting the North Korean leader.
'Welcomed Chairman Kim Jong Un, who has just arrived in Singapore,' Balakrishnan wrote on the micro-blogging site.
Kim later met Singaporean Prime Minister Lee Hsien Loong, who revealed that Singapore will spend about 20 million dollars to host the historic summit.
Singapore is one of the few countries that have diplomatic relations with both the United States and North Korea.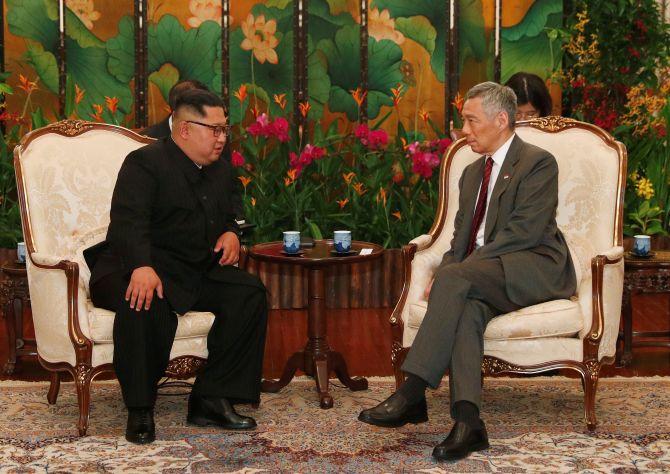 "It's our contribution to an international endeavour which is in our profound interest," Lee told reporters at the huge media centre the city-state had constructed to deal with the enormous demand.
Over 2,500 journalists are covering the summit, the first between a sitting United States President and a North Korean leader.
Lee said the cost of the summit for Singapore was 20 million Singapore dollars.
"It is a cost we are willing to pay," he said, adding that security costs would account for about half of that figure.
The summit has the potential to set developments on the Korean Peninsula on a new path, Lee was quoted as saying by Straits Times newspaper.
The summit is a plus for Singapore, he said.
"It gives us publicity. The fact that we have been chosen as the site of the meeting -- we did not ask for it, but we were asked and we agreed - says something about Singapore's relations with the parties, with America, with North Korea, also our standing in the international community," he said.
On Sunday evening, Air Force One touched down at a military air base, travelling from Canada, where Trump had attended a meeting of the Group of Seven Nations.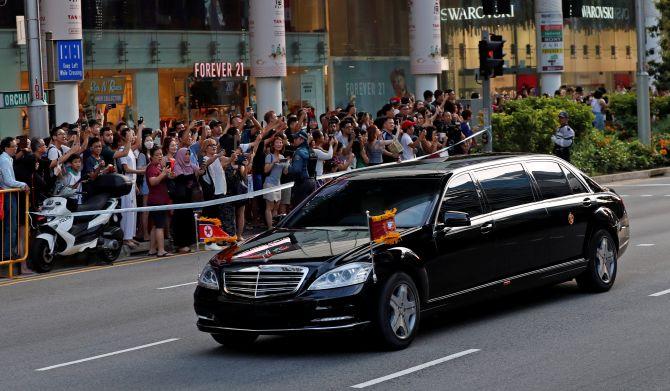 Trump hopes the landmark talks will kick-start a process that eventually see Kim give up his nuclear weapons in an irreversible manner that can be verified internationally.
He had declared on Saturday that the young dictator had a 'one-time shot' to bring his country in from the cold with the summit.
Kim and Trump will sit down for talks at 9 am (6:30 am IST) on Tuesday at the Capella Hotel on the resort island of Sentosa.
The two leaders have had an extraordinary up-and-down relationship over the past 18 months.
Trump, 71, had called Kim 'Little Rocket Man' and threatened to unleash 'fire and fury like the world has never seen' on North Korea as it conducted several ballistic missile tests in defiance of international warnings.
In return, Kim, said to be in his mid-thirtees, called Trump 'mentally deranged' and a 'dotard'.
WATCH: Kim Jong Un arrives in Singapore
North Korea also threatened to strike Guam, an American territory in the Pacific Ocean.
The North Korean leadership, including Vice Minister of Foreign Affairs Choe Son Hui has also taunted Washington, calling Vice President Mike Pence a 'political dummy'.
In March, Trump surprised the world by accepting an invitation from Kim to meet in person.
But last month, Trump abruptly cancelled the Singapore summit, citing the "tremendous anger and open hostility" by Pyongyang. However, he took a U-turn soon and said the White House was proceeding with the preparations for the summit.
"I feel that Kim Jong Un wants to do something great for his people," Trump had said on Saturday. "And he has that opportunity, and he won't have that opportunity again."
Calling his trip 'a mission of peace', he said the meeting as a rare opportunity for Kim and said the US was going in with a positive outlook.
At the same time, Trump said there was a 'good chance' the meeting would not work out and claimed he would know almost immediately after the start of talks how the situation would progress.
"I think within the first minute I'll know," Trump said.
Trump said at the least, he hoped the meeting would start a dialogue and a direct understanding between himself and the reclusive leader of North Korea.
"At a minimum, I do believe, at least we'll have met each other," Trump said, adding later that "hopefully, we will have liked each other."
While en route to Singapore, Trump said he looked forward to meeting Kim on what he anticipated would be an exciting day.
'I am on my way to Singapore where we have a chance to achieve a truly wonderful result for North Korea and the World,' Trump wrote in a pair of tweets.
'It will certainly be an exciting day and I know that Kim Jong-un will work very hard to do something that has rarely been done before ... Create peace and great prosperity for his land. I look forward to meeting him and have a feeling that this one-time opportunity will not be wasted!'
But experts say the negotiating positions of the two sides remain unchanged, and it is unclear whether this unprecedented encounter will yield anything substantive.
They said questions remain over Kim's willingness to fully abandon his nuclear programme, dismantle weapons and allow independent experts in to verify and inspect every site in the country that might be involved.
There is also the question of what will become of North Korea's short and medium-range ballistic missiles, which has been a great concern for North Korea's neighbours, including Japan.
Meanwhile, quoting sources, CNN reported that US officials have established a contingency plan for a potential second day of discussions between Trump and Kim depending on the direction of their planned meeting on Tuesday.
With inputs from ANI.