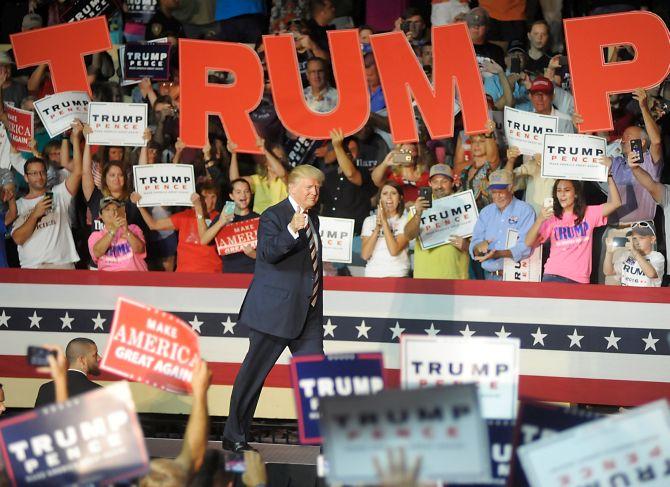 Republican presidential nominee Donald Trump should not be elected as the next United States president as he is "unfit" for the post and makes "crude generalisations" about nations and religions, two of America's most influential newspapers have said in their editorials.
Editorial boards of 'The Washington Post' and 'The New York Times' on Sunday made a strong case that Trump should not be elected as the president.
The editorials came ahead of an all-important first presidential debate in Hofstra University.
"It is beyond debate that Donald Trump is unfit to be president," said The Washington Post, while 'The New York Times' argued the case in its lead editorial 'Why Donald Trump should not be president' (external link).
A day earlier 'The New York Times' endorsed Democratic nominee Hillary Clinton as the next president of the US.
The elections for the next occupant of the White House would be held on November 8. Latest polls show that the two are in a dead heat.
About a month ago, Trump, 70, was trailing Clinton by more than seven-eight points on an average.
"Voters attracted by the force of the Trump personality should pause and take note of the precise qualities he exudes as an audaciously different politician: bluster, savage
mockery of those who challenge him, degrading comments about women, mendacity, crude generalisations about nations and religions," The New York Times editorial Board wrote.
"Our presidents are role models for generations of our children. Is this the example we want for them?" the daily asked.
As Americans prepare to watch the first presidential debate, The Washington Post (external link) editorial board said the challenge for today's audience was to avoid the trap of thinking of this debate as yet another opportunity for "the real Trump" -- or even a "new Trump" -- to emerge, either stylistically or substantively.
"It's way too late for that. The real Trump has been before the citizenry ever since he announced his candidacy in a rambling jeremiad that blamed Mexico for 'sending' 'rapists' to the United States as illegal immigrants. It has been said that the true test of an ordinary person's character is how you behave when no one is watching," it said.
"The corollary standard for a presidential candidate could be: how you behave repeatedly in public, before the one big night when everyone is watching. Even by that more forgiving standard, Trump has already flunked," The Washington Post said.
The editorial said Trump had amply demonstrated his "unworthiness" to occupy the Oval Office. "It's beyond his capacity in the upcoming 90-minute question-and-answer sessions to reverse or even substantially modify that conclusion," the daily said.
Meanwhile, the Trump Campaign slammed 'The New York Times' for endorsing Clinton.
"The New York Times' Editorial Board is the embodiment of the rigged system Donald Trump is running against," said Jason Miller, senior communications adviser to the Trump Campaign.
Image: Republican presidential nominee Donald Trump enters a campaign event at the Berglund Center in Virginia. Photograph: Sara D Davis/Getty Images