At the press conference, three women accused the former US president of sexual assault, while another one alleged that she was raped by him as a child.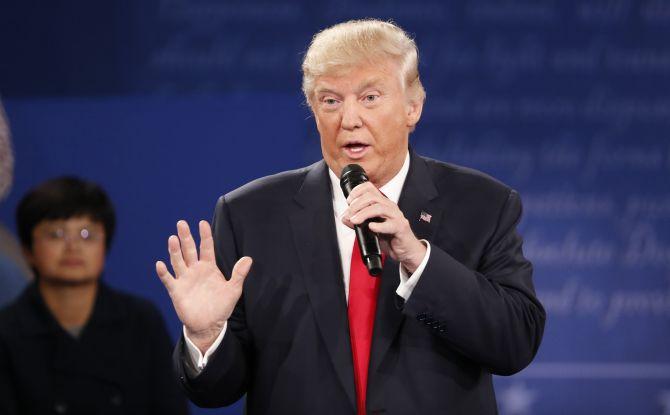 Republican presidential nominee Donald Trump held a short press conference with four women who have accused former United States president Bill Clinton of sexual assault, ahead of his second presidential debate with Hillary Clinton.
At the press conference on Sunday night, some 90 minutes before the start of the debate, three women accused the former US president of sexual assault, while another one alleged that she was raped by him as a child.
Bill Clinton is the husband of Hillary Clinton, the Democratic presidential nominee who faces Trump in the November general elections.
"These four very courageous women have asked to be here and it was our honour to help them," Trump said in his short remark. "I think they're each going to make just an individual short statement and then we will do a little meeting and then we'll see you at the debate," he said.
However, Trump did not take any questions even as reporters accompanying him yelled a few questions. "Why don't you all go ask Bill Clinton that? Go ahead and ask Hillary as well," Paula Jones, one of the women responded.
"I'm here to support Mr Trump because he's going to make America great again. And I think everybody else should vote for him. And I think they should all look at the fact that he is a good person. He is not what other people have been saying he has been, like Hillary. So, think about that," Jones said in her brief remarks earlier.
"At 12 years old, Hillary put me through something you'd never put a 12-year-old through. And she (Hillary Clinton) says she is for women and children. And she was asked last year on what happened and she says she is (inaudible) whether they did it or not and now she is laughing on tape saying she knows they did it," alleged Kathy Shelton.
"You went through a lot?" Trump asked. "Yes, sir. I did," she responded.
Juanita Broddrick alleged that she was raped by Bill Clinton. "And I'm here to support Donald Trump. I've tweeted recently and Trump re-tweeted it that action speaks louder than words. Trump may have said some bad words, but Bill Clinton raped me and Hillary Clinton threatened me. I don't think there is any comparison," she said.
Kathleen Willey said she was there to support Trump.
"The reason for that is the first day that he announced for president, he said I love this country and I want America to be great again. And I cried when he said that because I think that this is the greatest country in the world. I think that we can do anything. I think we can accomplish anything. I think we can bring peace to this world, and I think Donald Trump can lead us to that point," Willey said.
Some of the mainstream media described the unusual last minute press conference as another stunt by Trump, who has been facing widespread criticism and is campaign facing meltdown after the surfacing of videos and audios in which he is seen making lewd comments about women. Several dozens of the Republican party leaders have either withdrawn their support to Trump or have asked him to drop out of the race.
However, a defiant Trump has refused to drop out.
IMAGE: Republican US presidential nominee Donald Trump speaks during the presidential town hall debate at Washington University in St Louis, Missouri. Photograph: Lucy Nicholson/Reuters