Donald Trump has been indicted by a Manhattan grand jury on charges related to paying off a porn star during his 2016 presidential campaign, making him the first former US president to face a criminal charge and upending his bid to retake the White House in 2024.
The grand jury on Thursday voted to indict 76-year-old Trump, a Republican, for his role in paying money to porn star Stormy Daniels in an attempt to buy her silence over an alleged affair.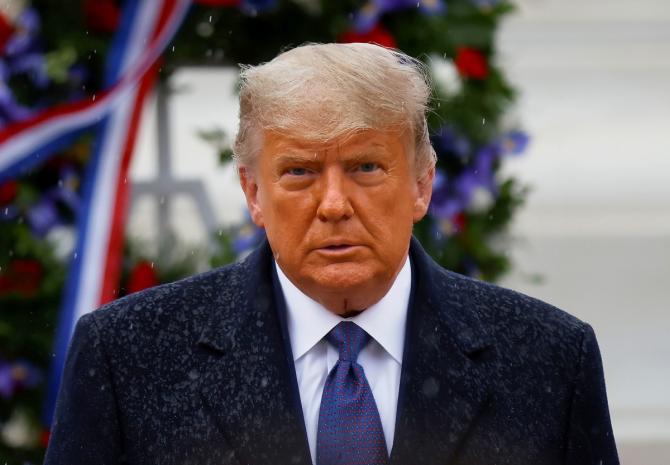 The indictment remains under seal and it is not clear what crimes and how many criminal counts Trump has been charged with. CNN reported that the former president has been charged with more than 30 counts.
The office of Manhattan district attorney Alvin Bragg, who has been pursuing the investigation for years, confirmed that it had contacted Trump's lawyers on Thursday evening to "coordinate his surrender" on unspecified charges.
"This evening we contacted Mr. Trump's attorney to coordinate his surrender to the Manhattan D A's office for arraignment on a Supreme Court indictment, which remains under seal. Guidance will be provided when the arraignment date is selected," a spokesperson for district attorney Bragg said.
The New York Times termed Trump's indictment "a historic development that will shake up the 2024 presidential race and forever mark him as the nation's first former president to face criminal charges."
Trump, the 45th US president from 2017 to 2021, is expected to fly from his home in Florida to New York on Monday and be arraigned in court on Tuesday.
The proceeding is expected to be brief. The charges in the indictment will be read to him at the hearing, which is set to last about 10-15 minutes.
Trump has denied all wrongdoing in connection with the payments made ahead of the election.
In a statement responding to news of his indictment, the former president called it "political persecution and election interference at the highest level in history," and accused the Democrats of "weaponising our justice system to punish a political opponent, who just so happens to be a president of the United States."
"The Democrats have lied, cheated and stolen in their obsession with trying to 'Get Trump,' but now they've done the unthinkable -- indicting a completely innocent person in an act of blatant election interference," Trump said.
He lashed out at Bragg, the Manhattan district attorney, calling the prosecutor a "disgrace", and accused him of "doing Joe Biden's dirty work".
"This is third-world prosecutorial misconduct. It is the opportunistic targeting of a political opponent in a campaign year," Trump's son Eric tweeted.
President Biden, a Democrat, repeatedly declined to comment on the indictment of former President Donald Trump as he departed the White House on Friday morning, CNN reported.
Trump attorneys Susan Necheles and Joseph Tacopina issued a statement, saying that the former president "did not commit any crime" and vowed to "vigorously fight this political prosecution in Court."
The case stems from a payment made just days before Trump was elected president in 2016. His former attorney Michael Cohen arranged a wire transfer of USD 130,000 to Daniels in exchange for her silence about an alleged affair.
Daniels has said she had a sexual encounter with Trump at a Lake Tahoe hotel in 2006 -- the year after he married his current wife Melania.
Cohen has said in court that he made the USD 130,000 settlement "in coordination with and at the direction of" the former president. Cohen was jailed from 2018-20 on multiple charges.
Following the indictment, Daniels thanked her supporters. "I have so many messages coming in that I can't respond...also don't want to spill my champagne," she tweeted.
"Thank you to everyone for your support and love! I have so many messages coming in that I can't respond...also don't want to spill my champagne. Teamstormy merch/autograph orders are pouring in, too! Thank you for that as well but allow a few extra days for shipment," the 44-year-old adult actress said.
Daniels's attorney Clark Brewster tweeted: "The indictment of Donald Trump is no cause for joy. The hard work and conscientiousness of the grand jurors must be respected. Now let truth and justice prevail. No one is above the law."
Former vice president Mike Pence who served under Trump said that while "no one is above the law, including former presidents," that he cannot "speak to the merit of this case at all."
"I really do believe that this decision today is a great disservice to the country and the idea that for the first time in American history a former president would be indicted on a campaign finance issue to me, it just smacks of political prosecution, and I think the overwhelming majority of the American people will see it that way," Pence told CNN.
Trump was caught off guard by the grand jury's decision to indict him, according to a person who spoke directly with him.
While the former president was bracing for an indictment last week, he began to believe news reports that a potential indictment was weeks or more away.
"Is this a shock today? Hell yes," the person said, speaking on condition of anonymity as Trump's team calculated its response.
In light of Trump being indicted by a New York grand jury, US Marshals, Secret Service and New York Police Department are talking about how the former president will appear for his arraignment, according to a senior NYPD source.
Out of an abundance of caution, all personnel at NYPD headquarters and support units will be in uniform on Friday, according to an internal memo from the department.
The indictment comes as Trump faces legal hurdles in other potential criminal cases. Trump is currently the front-runner among all declared and potential contenders for the 2024 Republican White House nomination.
But there is nothing in US law that prevents a candidate who is found guilty of a crime from campaigning for and serving as, president -- even from prison.
Trump was twice impeached by the House of Representatives. He was acquitted by the Senate both times.