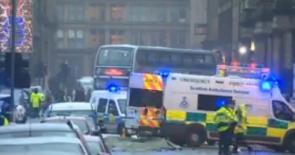 At least six people are feared killed and several people have been injured after a big lorry crashed into a group of pedestrians in the heart of the Scottish capital of Glasgow on Monday.
Scottish police confirmed there had been a 'number of fatalities' in the accident, which took place as the city centre was crowded with Christmas shoppers.
Eyewitnesses reported the lorry moving at speed before hearing a bang and described bodies lying in the road. The police have described the crash, outside Queen Street station and the Millennium Hotel, as 'very serious'.
A large number of emergency vehicles are in attendance and roads surrounding George Square have been closed. A police Scotland spokesperson said: "About 2.30 pm, a Glasgow City Council bin lorry was travelling north on Queen Street when it appeared to strike pedestrians outside the Gallery of Modern Art before continuing to travel towards George Square, when it crashed at the Millennium Hotel on Queen Street at George Square."
There have been a number of fatalities and people injured. Emergency services are currently at the scene. The police have declared the scene a major incident.
"All roads in the surrounding area are closed and people are advised to stay away from George Square and make alternative travel arrangements." The Scottish Fire and Rescue Service said a number of crews had been dispatched to the scene and were conducting a rescue operation.
News reports indicate the lorry driver had a heart attack resulting in him losing control of his vehicle and ramming into the side of Millennium Hotel.