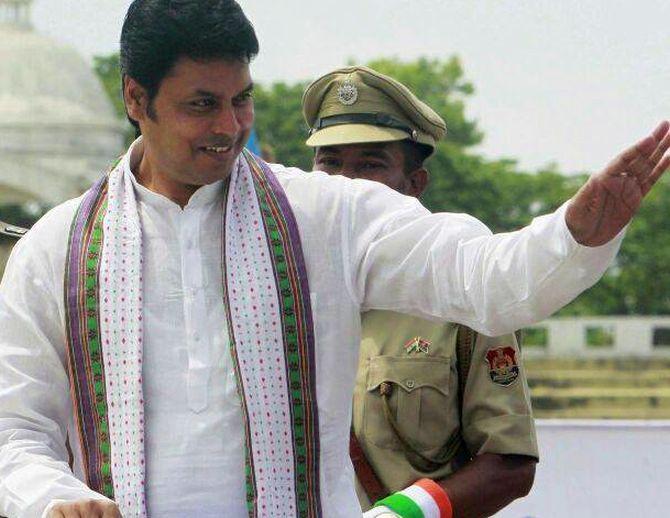 Tripura Chief Minister Biplab Deb has added another blooper to the list of his gaffes.
On Wednesday, the Tripura chief minister said that famous Indian poet Rabindranath Tagore refused the Nobel Prize in protest against the English.
In reality, Tagore had rejected the knighthood conferred on him by the British after the Jallianwala Bagh massacre. The Nobel Prize for Literature -- awarded to the poet in 1913 -- remained with him until his death on August 7, 1941.
Speaking at the inauguration of the three-day-long Rajarshi festival at the Bhubaneswari temple in Udaipur, Deb said: "Besides being a world-famous poet, Rabindranath Tagore is also known for rejecting the Nobel Prize in protest against the British government."
The opposition was quick to pounce on Deb's mistake, criticising him for not doing "basic homework" before delivering lectures. "Our chief minister has crossed every limit of idiocy. We even don't feel like commenting on the issue," said Communist Party of India-Marxist central committee leader Goutam Das.
Deb's gaffes have become an almost daily embarrassment for the Bharatiya Janata Party since he commented last month that "Internet and satellite communication existed during the Mahabharata era". He never retracted that statement.
Then he questioned the crowning of Diana Hayden as Miss World in 1997, saying she was "not an Indian beauty like Aishwarya Rai". However, he later apologised.
He didn't stop. Soon after, at an event in the state capital Agartala, the Tripura chief minister said that "mechanical engineers should not opt for civil services, but only civil engineers should".
A few weeks back, he offered advice that raised many eyebrows. "Graduates shouldn't run after government jobs, they should start paan shop instead," he declared.
Also, he suggested, young men should breed cows and explore a career in dairy.