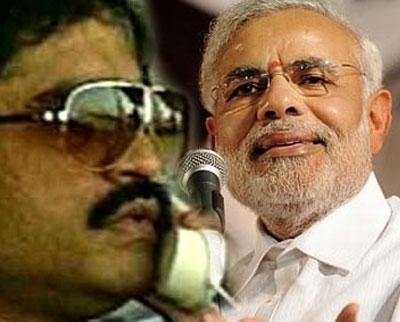 The National Investigation Agency is busy taking apart each and every possible lead connected to the Patna serial blasts after the suspects held in connection with the terror strike revealed some shocking details to sleuths of the probe agency.
Operatives of the Indian Mujahideen, who allegedly carried out the blasts and are currently in custody, have already outlined the terror outfit's plan to target Gujarat Chief Minister Narendra Modi.
NIA sleuths tell Rediff.com that though they have known about the terror threat to Modi for a while, they did not really know the extent of the Inter Services Intelligence's involvement in the plan to eliminate the Bharatiya Janata Party's prime ministerial candidate.
In yet another shocker, the blasts suspects told NIA officials that Pakistan's spy agency has sought the help of underworld don Dawood Ibrahim to take out Modi.
The ISI, believe Indian sleuths, has asked Dawood to activate sleeper cells of his gang in Maharashtra and Gujarat to carry out the mission.
Modi's assassination would not only crate chaos across the political spectrum, it would also be a major setback to India's efforts to fight terrorism, point out NIA officials.
Intelligence agencies believe that the ISI also asked several rogue outfits operating in India -- including the Indian Mujahideen and the Students Islamic Movement of India -- to assist in the mission, sources told Rediff.com.
Indian Mujahideen's chief Yasin Bhatkal, who was arrested in August from near the India-Nepal border, has admitted during interrogation that several operatives of his organisation were sent to Pakistan to receive training in bomb-making.
But Yasin was quick to add that the stringent security cover around Modi makes it extremely difficult to carry out a strike on him.
On the likely backlash against the minority community in India in the wake of an attack on Modi, Yasin told his interrogators that the ISI was willing to risk the retribution, as the assassination of such a high-profile leader was bound to put the entire nation on edge.
Investigators involved with the Patna blasts probe share that some of the accused speak with pride about the terror strike -- in which five people were killed and several others injured -- as it was the biggest attack ever carried out by the Indian Mujahideen.
Though the terror outfit has been responsible for several heinous terror strikes, this attack is important for them as IM operatives managed to penetrate the formidable security arrangement and carry out blasts at Modi's rally, albeit hours before the Gujarat chief minister was anywhere near the site.
Intelligence Bureau officials admit to Rediff.com that they are apprehensive about IM operatives, motivated by the 'success' of the Patna blasts, planning other such nefarious activities. They are working on every possible lead available in the case to thwart the terror group's next disruptive plan.