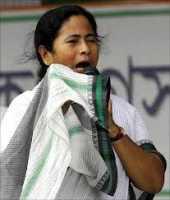 In a virulent attack on the Communist Party of India-Marxist, Trinamool Congress MP Kalyan Bandopadhyay on Monday threatened to 'break the hands' of the CPI-M cadre if the West Bengal Chief Minister Mamata Banerjee was attacked again.
"We will break your hands if you dare to attack Mamata Banerjee again," Bandopadhyay told a rally in Hooghly district speaking about the chief minister being heckled and finance minister Amit Mitra being manhandled in Delhi on April 9. He warned that Left Front chairman Biman Bose and Leader of the Opposition Suryakanta Mishra would be tonsured and thrown out of the state.
"Biman Bose and Suryakanta Mishra should not talk much otherwise we will shave their heads and throw them out of Bengal," Bandopadhay said.
He also asked former chief minister Buddhadeb Bhattacharjee to discard his 'mask' if he personally did not hand over Student Federation of India General Secretary Ritabrata Bhattacharya.
"Buddhababu should stop pretending to be a gentleman and discard his mask. He is a hypocrite. If he is not a hypocrite then he should have himself handed over the culprit Ritabrata to the police," he said.