President Ram Nath Kovind, Vice President Venkaiah Naidu and other top leaders paid rich tributes to senior Bharatiya Janata Party leader and former Finance Minister Arun Jaitley, who died on Saturday.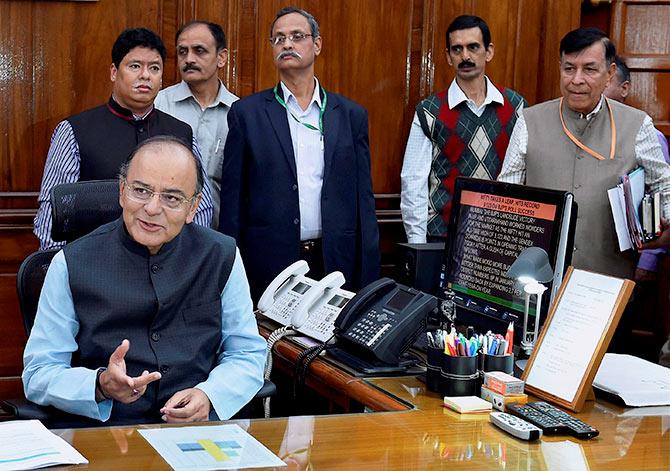 Extremely saddened by the passing of Arun Jaitley after battling a long illness with fortitude and dignity. A brilliant lawyer, a seasoned parliamentarian, and a distinguished Minister, he contributed immensely to nation-building.
-- President Ram Nath Kovind
His death is an irreparable loss for the country and personally to me also. I have no words to express my grief. He was a powerful intellectual, an able administrator and a man of impeccable integrity.
-- Vice President Venkaiah Naidu
Arun ji has left an indelible mark as the finance minister of the country during the NDA (National Democratic Alliance) government's 2014-19 tenure by implementing prime minister's vision for the welfare of poor on ground and placing India as the world's fastest growing economy.
His every decision reflects this quality -- be it the matter of taking action on black money or of realising the dream of 'GST -- 'one nation, one tax' or be it demonetisation.
The country will always remember him for his very simple and sensitive personality. I have lost not only a senior leader of the organisation but also an integral member of the family whose support and guidance I have been receiving for years.
Today, his departure has brought a void in the country's politics and the Bharatiya Janata Party, which is not possible to be replenished soon..
-- Amit Shah, Union home minister
Jaitleyji will always be remembered for pulling the economy out of the gloom and putting it back on the right track. The BJP will miss Arunji's presence. I extend my heartfelt condolences to his bereaved family.
-- Rajnath Singh, Defence Minister
I have seen him closely when he started as a student leader of the Vidyarthi Parishad. He was one of the top lawyers in the country who possessed natural argumentative skills.
I used to take his suggestions on various matters when I was BJP president. He was dedicated to the ideology of the party.
His speeches in Lok Sabha and Rajya Sabha will be remembered by the people. His death is a loss to the entire nation, the government and the party.
-- Nitin Gadkari, Union minister
We are deeply saddened to hear the passing of Shri Arun Jaitley. Our condolences to his family. Our thoughts and prayers are with them in this time of grief.
-- Indian National Congress
Sad to hear that former Union Minister Arun Jaitley ji has passed away. My thoughts are with his family in this time of grief. May his soul rest in peace.
-- Amarinder Singh, Punjab chief minister
A stalwart who paid tribute to his simple beginnings by helping those with meagre means. Orator par excellence, legal luminary @arunjaitley ji served the Nation and sangathan with dedication and zeal. My tributes to him. Condolences to loved ones. Om Shanti (sic).
-- Smriti Irani, Union minister
Untimely demise of former FM and senior leader Sh Arun Jaitley ji is a huge loss to the nation. A legal luminary and an experienced political leader known for his governance skills will be missed by the country. Thoughts and prayers with his family in this moment of grief. RIP.
-- Arvind Kejriwal, Delhi CM
Extremely saddened at the passing away of Arun Jaitley Ji, after a battle bravely borne. An outstanding Parliamentarian & a brilliant lawyer, appreciated across parties. His contribution to Indian polity will be remembered. My condolences to his wife, children, friends & admirers.
-- Mamata Banerjee, West Bengal CM
The country has lost a nationalist and progressive politician in Arun Jaitley. He was a legal luminary and a politician who used to put across his views on national issue frankly. I pray to God that his soul rests in peace and to give strength to his family members and citizens to cope with the loss.
-- Kamal Nath, Madhya Pradesh CM
Shocked and deeply pained to know about our great leader Arun Jaitley ji. It is more painful as we lost another great leader after Sushma Swaraj ji in just a few days. My deepest condolences to his family, friends and crore of BJP karyakartas. This is my personal loss too!
-- Devendra Fadnavis, Maharashtra CM
Deeply saddened to hear about passing away of former Union Minister Arun Jaitley ji. He was a distinguished lawyer, parliamentarian and an erudite person.
-- Naveen Patnaik, Odisha CM
This talented and learned leadership is no more now. Jaitley had begun his social and political life at a very young age. The country is progressing on the path of development in various fields for which his contribution was necessary as well as important. May his soul rest in peace.
-- Rashtriya Swayamsevak Sangh
Deeply saddened by the demise of veteran BJP leader Shri Arun Jaitley. We have lost an astute parliamentarian, avid reader and a compassionate leader. I extend my heartfelt condolence to his family members. May his soul rest in peace.
-- Sharad Pawar, NCP chief
We have lost someone whom the nation needed for many years. Jaitey was an outstanding parliamentarian as leader of the opposition and none could match him. The BJP owes Jaitley for being what it is today.
-- Kapil Sibal, Congress leader
His was an extra ordinary personality. He had maintained his unique identity despite being in the public life for such a long period. He was an excellent lawyer. He played a key role as the troubleshooter in the (first) Modi government. He was one of the leaders who wanted the relationship between Shiv Sena-BJP should remain intact.
-- Uddhav Thackeray, Shiv Sena chief
On behalf of France, I offer our heartfelt condolences to the family and loved ones of Arun Jaitley ji. France stands with India and its people in this time of deep grief.
-- Alexandre Ziegler, French Ambassador to India
Saddened by Jaitley ji's demise, BJP family has lost one of its integral members today. I pray to the almighty to give peace to the departed soul and give strength to his family at this time of grief.
-- Raghubar Das, Jharkhand CM