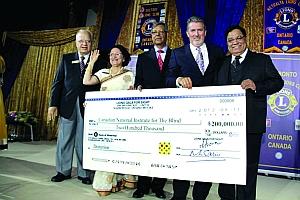 Over 550 guests attended the Toronto Netralaya Lions Club and Doctors Lions Club fundraising dinner September 14 in Mississauga, Ontario.
Out of the $400,000 raised during the event, $200,000 were donated to the Canadian National Institute for the Blind and $25,000 to the Princess Margaret Hospital for infant eye cancer research being conducted in collaboration with Narayana Nethralaya Post Graduate Institute of Opthalmology in Bengaluru, India.
"It is wonderful to see so many people united by a single vision, and that is to help more people enjoy the simple yet profound gift of sight," said Ontario Premier Dalton McGuinty, who was the chief guest and keynote speaker.
"You have made our communities stronger, more compassionate and more welcoming. And you do all this on top of building careers and businesses and raising a family," McGuinty said.
Ministers present at the event included Harinder Takhar, Kathleen Wayne and Linda Jeffrey.
Businessman Vasu Chanchlani donated $50,000. He has also established a $25,000 annual research award to be given to a scientist engaged in the field.
"Life today is governed and enriched through research and innovation, and it is very difficult to imagine our modern existence without that," Chanchlani said. "My dream is that one day blindness will be eradicated from this planet," he added.
Keeping this vision in mind he has instituted the CNIB Chanchlani Global Vision Research Award and the Chanchlani Global Health Research Award at McMaster University.
Kanta Arora, the chair of the gala, said the goal of the fundraiser was to create awareness of preventable blindness and provide monetary help to institutes for research in the field. Deepak Ruparell of Yorkdale Dufferin Mazda, donated a 2012 Mazda 2, which was raffled for $47,000.
Image: Members of the Toronto Netralaya Lions Club
Photograph: Ajit Jain