Congress President Rahul Gandhi's recent 4-day visit to the United Kingdom and Germany, from August 22 to 25, has created a flutter in India.
From the 1984 anti-Sikh riots to demonetisation, from Rashtriya Swayamsewak Sangh to the Modi government's policies, Rahul spoke on various issues openly, at times at variance with the truth -- like on the 1984 anti-Sikh violence.
Wherever he went, he took potshots at the RSS, the Bharatiya Janata Party and Prime Minister Narendra Modi who he charged with dividing the people.
While he compared the RSS with the Muslim Brotherhood, he also attacked Modi for his government's Pakistan and China policies.
Rahul also described the 1984 anti-Sikh riots as a "very painful tragedy" and said he was "100 per cent" for the punishment for those involved in any violence against anybody. But, he also said the Congress party was not involved in it.
Here are the top 10 quotes from his various interactions in Germany and the United Kingdom.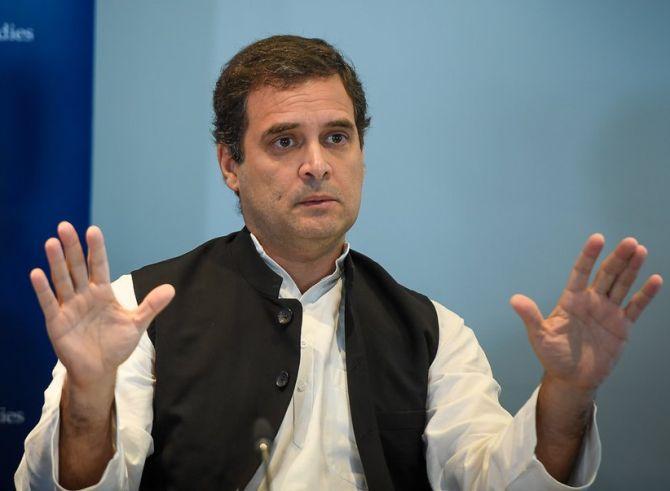 1. On RSS
The RSS's idea is similar to the idea of Muslim Brotherhood in the Arab world
2. On 1984 anti-Sikh riots
It was a tragedy, it was a painful experience. You say that the Congress party was involved in that, I don't agree with that. Certainly there was violence, certainly there was tragedy
3. On Modi's popularity
People support populist leaders like Mr Trump and Mr Modi because they are angry that they don't have a job
4. On demonetisation
The idea of demonetisation came directly from the Rashtriya Swayamsewak Sangh, bypassed the finance minister and the Reserve Bank of India, and was planted in the prime minister's head
5. On Vijay Mallya
Indian prisons are pretty decent as far as Mr Mallya is concerned. Justice should be same for Indian people. Just because he is Vijay Mallya who defrauded banks to the tune of Rs 9,000 crore and ran away and he needs a "difficult jail" is not acceptable
6. On insurgent groups
If you do not give people a vision in the 21st century, somebody else will. And that is the real risk of excluding a large number of people from the development process. It's very dangerous to exclude people in the 21st century.

Hate is a choice, and hate is a dangerous thing in a connected world. In the Congress party, we bring people together, we carry as many people as possible with us in the transformation process. There is a lot of hatred in the world today, but not enough act of listening. Listening is very powerful, and it can change the world.
7. On criticism
The BJP attacks everything I say. It is their default position
8. On 2019 LS poll
The next election is pretty straightforward. On one side there is BJP and on the other side, there is every opposition party. There is no way that the BJP can win the election...
9. On Doklam, BJP's Pak policy
There is no deeply thought-out strategy by Prime Minister Modi when it comes to Pakistan.
Doklam is not an isolated issue. If he (PM Modi) was carefully watching the process, he could've stopped it.
10. On Sushma Swaraj
Why is the foreign minister spending her time on sorting out visas? That is not the job of the foreign minister. That is the job of someone in embassy. The job of the foreign minister is making foreign policy, holding discussion on strategy