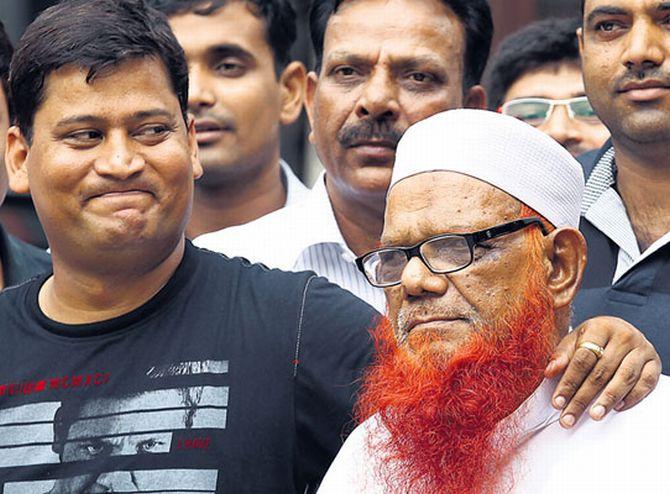 Top Lashkar-e-Tayiba bomb expert Abdul Karim Tunda was on Thursday let off by a Delhi court in connection with two separate blast cases lodged in 1997 in which one person was killed and several others were injured.
Tunda, 73, one of the 20 terrorists India had asked Pakistan to hand over after the 26/11 Mumbai attacks, was discharged by the court which said there was no prima facie evidence against him to proceed.
Last month, Tunda was discharged by another court in a case registered under the stringent provisions of Terrorist and Disruptive Activities (Prevention) Act and under various sections of the Indian Penal Code.
However, he will have to remain in jail as there is one more case pending against him in Delhi.
The two cases in which Tunda was on Thursday let off by Additional Sessions Judge Reetesh Singh pertains to a blast in Karol Bagh on October 28, 1997 and two blasts in Sadar Bazaar on October 1, 1997.
In the Karol Bagh blast case, one person was killed while several others were injured and a bomb was also recovered by the police.
In the Sadar Bazar blasts, two bombs exploded in which several persons were injured.
Tunda was listed in the police's chargesheet in these two cases based on the disclosure statements of other accused who were arrested in 1998 for their alleged involvement in the blasts.
During the arguments on framing of charges in the case, advocate M S Khan, who appeared for Tunda, had said that no case was made out on the basis of disclosure statements of co-accused on which the police was relying.
Khan had also argued that the other co-accused were finally acquitted by the courts earlier and charges cannot be framed on the basis of their disclosure statements.
Tunda was arrested by the Special Cell of Delhi police on August 16, 2013 from the Indo-Nepal border. The police had alleged in the chargesheet that Tunda's name had cropped up in the disclosure statements of other arrested accused Amir Khan and Mohd Shakil.
It alleged that Tunda was the main conspirator on whose instructions the blasts were carried out.
In the Karol Bagh blast case, Tunda was named in the chargesheet for the alleged offences under various provisions of the Explosive Substances Act and the IPC including sections 302 (murder), 307 (attempt to murder).
Similarly, in the Sadar Bazar blasts case, the chargesheet was filed under various provisions of the IPC including attempt to murder and criminal conspiracy.
Tunda has been discharged in three cases lodged in Delhi while one case in pending against him in which the court is hearing arguments on framing of charges.
Police had told the court that Tunda, suspected to be involved in 40 bombings in India, was declared a proclaimed offender in the case.