'It is so mired in internal conflicts that no one knows who is making decisions. Pranab Mukherjee? The prime minister? Or someone else?'

Arvind Kejriwal breaks his silence on Team Hazare's negotiations with the government in an exclusive interview with Sheela Bhatt.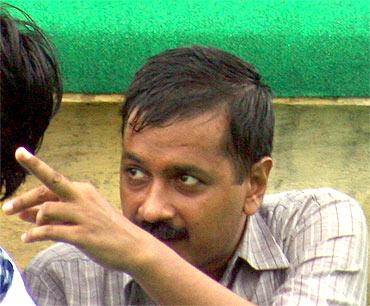 Arvind Kejriwal played a crucial part in Anna Hazare's campaign for the Jan Lokpal Bill against corruption, eliciting both accolades and criticism for his activism.



After playing a leading role in Delhi's Ramlila Maidan last month, he was recently in Hazare's village to plan the next round of the campaign against corruption.

In the second part of his interview with Rediff.com's Sheela Bhatt, Kejriwal talks about the crisis of leadership in the country, refutes the allegation that he created Brand Anna and provides revealing insights into Team Hazare's negotiations with the government.
Read Part I of the interview: 'I will not compromise with corruption'
Read: Arvind Kejriwal: The man the govt loves to hate
What is your understanding of Anna Hazare?
He is a politically savvy person. There is a crisis of political leadership in the country. He mixes spirituality with politics. He is trying honestly to remove corruption from politics. This moves everyone.
I have asked you before -- many people, who know about such movements, say you and Prashant Bhushan created and launched Brand Anna.
That is a wrong perception. It is a wrong allegation. If you stay with Anna and speak to him, you will realise how fiercely independent he is.
Woh kisi ki nahin sunte hain (he does not listen to anyone). He takes advice from all, but does what he thinks fit.
Don't Indians have a weakness for idol worship?
Every individual, in his/her life, looks for a personality s/he can emulate. There was a serious leadership crisis in the country. Anna has to some extent filled that vacuum.
Every one of us thinks whom do I look up to. What should I become in life? This is a substantial part of our quest in life. Whom do you look up to?
We read in history someone was Gandhi, there was a Nehru. But out of the leaders around us, whom do you look up to?
Till today, people were looking up to people with power and money like Mukesh Ambani, Sachin Tendulkar and Amitabh Bachchan. But Anna is a fakir who has become the dream personality for young people.
People think Anna will save the country. Anna has spread positive energy in all directions.
But Anna is not able to read the text of the highly technical acts of legislation in English.
To understand the problems of the entire Indian bureaucracy and to present a solution must be difficult.
I understand that you and Prashant Bhushan can dwell on the nitty-gritty by reading and assessing technical issues. But Anna has come out to change the country by changing the bureaucracy. Isn't it a big task?
It is your misunderstanding that he doesn't understand. He has his own way of understanding details.
Before every joint committee meeting on the Lokpal Bill he used to sit with me for three hours. He would ask me questions on every detail. He would grasp every little agenda. He would make notes in Marathi.
He may be a 'satvi' pass (passed Class 7), but I used to be amazed to see the way he would go into the depth of the subject.
Some observers have noted that he was a former army truck driver who was taken to such great heights by you.
(Softly) koi inko nahin laya (no one brought him into the limelight). Even if I wish, I can't bring you into public life. What is my capacity? Why would I bring him up? Why should I not push myself?
That is the point. Because he wears a Gandhi topi, he is known as a Gandhian.
So, clothes helped? Hmm...
Even his background...
Like?
You thought people would identify with him, with his Gandhian personality.
No person can fool all the people all the time. You are trying to belittle Anna's entire life and his contributions.
I am sorry. What I want to say is that it is difficult to know you. Can you tell us why?
You know me. I am talking to you.
Let me put it differently. Arvindji, people feel you are hiding some part of you. You have not seen poverty. You have studied at an IIT. You have had a good job.
What is there in your life to motivate you so much that you bring up somebody and create such an event that brought such change in our lives?
Yes, that's not possible. Your question carries your answer.
It is not possible for anybody to create such a thing out of Anna. It is bakwas (bunkum) to say that I brought someone here. It is the idea that worked.
I told Anna my idea. He found it okay. He came to New Delhi. People do share their ideas with others. I did, too.
You can give me that much credit that I took care of Anna's logistics in New Delhi to some extent. I helped him strategise the movement.
No one can create a movement. No one can create a Gandhi.
What has been irreversible in the last few weeks?
It is difficult to say that (the events witnessed at the Ramlila Maidan last month), it is irreversible. We can't say how many days this (fervour) will remain.
I think one thing has happened: The country is awakened. The country has united. An opportunity has been created for the country. Only time will tell what kind of concrete changes this opportunity will bring in.
Also, the Ramlila event has shown that there is a huge disconnect between the people and sarkar (government). Lakhs of people came onto the streets while the government kept playing politics.
The government tried to show that Anna and his team are not on the same page. They took a CD of Bhushan and said all sort of things about me and Anna.
After August 16 (when Hazare was sent to Tihar jail), when did the first talk between Team Anna and the government take place?
The first meeting took place with (Finance Minister) Pranab Mukherjee. We didn't keep any pre-condition. In the meeting whatever we were saying, they kept agreeing.
First, we said the Jan Lokpal Bill should not go to the Standing Committee (of Parliament). He (Mukherjee) agreed. We said put it before Parliament, debate it. During the debate whatever amendments will be proposed we will agree to it.
We said the Standing Committee will take its own time. Since the bill is ready it can be debated. Pranabji said he is "broadly" ready.
He asked us to put these conditions on a piece of paper. He said he would put up it to the prime minister and it will be agreed upon. We gave it in writing. He later read that out in Parliament.
We wanted the Jan Lokpal Bill to be tabled in Parliament. We said show us the weak points where the government does not agree. They showed us 6, 7 points. We agreed on 2, 3 points.
Pranab Mukherjee said three points are "sticky" where an agreement was not possible. He wrote down three points and said that would be discussed with the PM. It was a good meeting.
By and large, we agreed on the procedure to be adopted. It was decided we would meet the next day and discuss the three "sticky" points and the matter would be over.
But the next morning the government completely changed its stance.
For the sake of transparency, can you share (what these were)? Wasn't it the fact that Anna's health was deteriorating and pressure was building up on you? It was necessary for you to surrender a little.
Yeh to zaroor hain (This was so). Anna's health wasn't deteriorating, but everyone was worried about Anna's health. We were very worried.
Even if we would not have got anything from the government we had decided that we would expose them (the government).
We had decided that we would tell people, "Sarkar ka bhrashtachar jeet gaya. Sarkar ka anyay jeet gaya aur desh ki janata haar gayi. (It's a win for the government's corruption. Injustice has won, the people have lost)."
We were going to say then that Anna should break his fast for this stubborn and corrupt government.
Gandhiji was to say that one should fast against authority that is in a position to take a decision. In this government we don't see any decision-maker.
It is so mired in internal conflicts that no one knows who is making decisions. Pranab Mukherjee? The prime minister? Or someone else?
We decided that instead of Anna giving away his life we thought we would make an appeal and tell Annaji to give up his fast.
On which day were you thinking of this?
This is what we were thinking on the last day. If the Parliament debate had not taken place we would have broken the fast. Hum Annaji ka fast tudva dete the.
It is a misconception that victory was important to us.
You haven't got anything substantial.
Three things happened.
Those three sticky points the government has agreed to.
This is merely intent.
Read the resolution of Parliament. 'This House in principle agrees to all the three demands of Anna Hazare and requests the honourable chairperson to transfer all the proceedings of today's debate to the Standing Committee.'
After 12 days of Anna's fast the Jan Lokpal Bill is sent to the Standing Committee. Aruna Roy and Dr Jayaprakash Narayan's bills have also gone to the Standing Committee without either of them fasting.
It is their good luck (laughs).
What did you get out of the 12 days of fasting and such mobilisation of people? Can you be frank?
I am frank. When we had started, at that time, the way the wave of masses had erupted, we had hope that in view of such a loud noise of protest by the people, the government would surely bring the Jan Lokpal Bill in Parliament.
After all, we are in a democracy where the people's voice should be heard.
We started our negotiation with the demand of passing the Jan Lokpal Bill in Parliament. But as the days passed and the fast continued, we came to know that this democracy of people is just on paper.
In reality, sarkar janta ko kuch samjhati nahi hain (the government doesn't care for the people). Even if thousands and lakhs of people come onto the streets, the government doesn't blink.
As the fast proceeded, we felt this. That time we thought there is no point in hitting your head against a wall with this government. This government is stiff. It is completely mired in corruption.
We came to know that this government would no way pass the bill. There is too much conflict of power within the government.
In view of these facts and in the given circumstances we got enough.
Everything evolves, na?
You are not just a leader, but also a negotiator. Don't you think the negotiator in you failed somewhere?
I don't think so. Their (the government's) intentions were not good.
Second, there was an intense leadership crisis inside the government. The last day, Anna was saying get me the agreement on the three sticky issues.
On the day the Parliament debated the bill the government was in disarray. They -- the ministers -- were unable to agree upon what the government should do. We saw so much internal politics.
If you are claiming that Anna was having a hard line at the beginning and it turned soft at the end, the government was still just not ready to agree to his three demands.
Every one of us wanted a vote inside Parliament. We wanted to know which party stood where (on the Bill).
Did anyone promise a vote inside Parliament?
Yes, (Law Minister) Salman Khurshid promised us.
He denies it.
He is lying. The first night, Prashant Bhushan and Medha Patkar were called to his house. Both went to see him. They were shown a resolution. Prashant made some small changes here and there.
He (Khurshid) said this resolution would be presented in Parliament. Prashant said 'You are bringing under Rule 193.'
Khurshid said, 'Leave it to me. Don't go by rules.' He told Prashant, 'I am promising you that tomorrow there will be voting on the resolution.'
The next day, again, we got a call from Khurshid. We were asked to reach Parliament. When we drove towards it (Parliament), we got a message to reach his home. We waited there for an hour.
Later Prashant got a call that the promised resolution would not be tabled in Parliament. When we asked why, he (Khurshid) said the BJP (Bharatiya Janata Party) doesn't want it.
We made the issue public. The BJP in no time declared that it is not true. The BJP said it was ready to vote for it.
The government was lying.
Was the BJP willing?
I don't know. I have shared the facts with you.
Image: Arvind Kejriwal. Photograph: Sanjay Sawant/Rediff.com