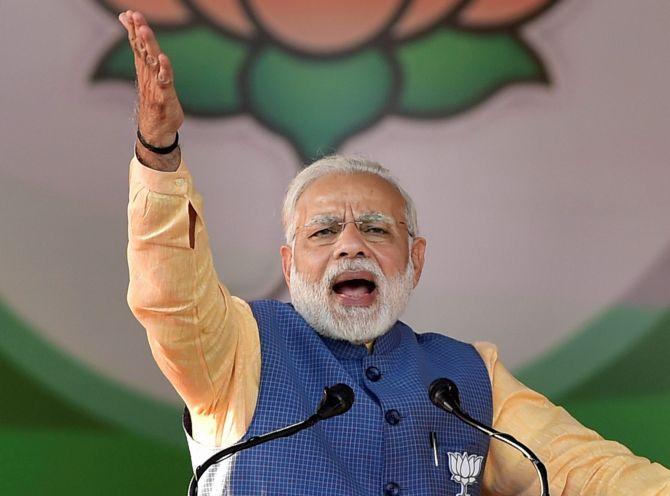 IMAGE: Prime Minister Narendra Modi addresses a rally in Bengaluru. Photograph: Shailendra Bhojak/PTI Photo
Prime Minister Narendra Modi on Sunday redefined what he means by the term 'TOP' priority of the National Democratic Alliance government led by him.
TOP means Tomato, Onion and Potato, he said at a public rally to mark the culmination of Karnataka BJP's 'Parivarthana Yatra' that crisscrossed the entire state covering all the 224 assembly constituencies.
Modi said, "Those growing vegetables and fruits are among our top priority. When I say TOP, I mean whichever part of the country you go, three vegetables are very much visible -- Tomato, Onion and Potato."
"That's why I call TOP Priority. T for Tomato, O for Onion and P for potato, that makes TOP priority."
He explained that these three TOP staples found across the country symbolised his government's initiative called 'Operation Greens' to improve the living condition of farmers.
Keeping these growers in mind, Operation Greens has been announced in the budget, he said.
Just as AMUL enhanced farmers' income, Operation Greens would prove beneficial for vegetable growers, the prime minister said.
He assured farmers that BJP state president B S Yeddyurappa would earmark Rs 1 lakh crore to improve the irrigation system in Karnataka if he becomes the chief minister after the assembly elections.
Tearing into the Siddaramaiah-led Congress government in Karnataka, Modi chided it for setting "new records" in corruption and asserted that the countdown for its exit has begun.
"The Congress government is at the exit gate," Modi said, as he mounted an all-out attack on the Congress rule, dubbing it a "10 per cent commission government" and saying criminals were ruling the roost under it.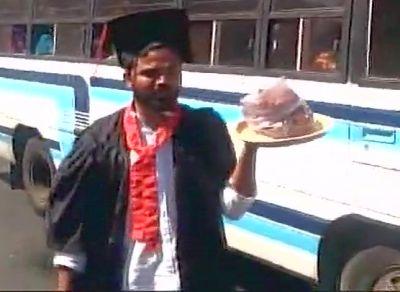 Students sell pakodas near Modi's rally venue in B'luru
A group of college students, donning degree robes and selling 'pakodas' to passers-by in a dig at Prime Minister Narendra Modi's remarks over job creation, were whisked away by the police, hours before the PM's rally in Bengaluru.
The students appeared near the Mehkri Circle, a few metres away from Palace Ground where Modi was scheduled to address the rally, in protest against his recent remarks linking pakoda selling and job creation.
On being asked about inadequate job creation in the last four years in a recent interview to a news channel, the prime minister had said that a person selling pakodas outside their (channel's) television studio and earning Rs 200 a day should also be perceived as 'employed'.
The young students sold 'Modi Pakodas', 'Amit Shah Pakoda' and 'Dr Yeddy Pakodas', a reference to Karnataka BJP chief Yeddyurappa, to those passing by, including the BJP workers and visitors on their way to the rally.
The police later removed the degree robes of the protesting students and took them into custody.
Photograph: ANI
Modi also referred to the spate of killings of BJP and Hindu activists, an issue the party has brought to the focal point of its discourse, saying, "ease of doing murders" was being discussed in the state while his government talked about ease of doing business.
Slamming the government on the law and order front, Modi said, "instead of the rule of law, the criminals are ruling the roost."
The BJP had ruled the state from 2008 to 2013, marked by internal squabbles that saw three chief ministers, including B S Yeddyurappa, who quit on graft charge.
The BJP has set a target to win 150-plus seats for the coming polls.
Karnataka is the second major state after Punjab where the Congress is ruling, with the BJP going all out to unseat it in the assembly polls as part of its "Congress Mukht Bharat" mission.
Asserting that there was a "saffron wave" in the state, Modi said people of Karnataka had decided to make the state Congress free and to get rid of Congress culture.
"The Congress government is a 10 per cent government,where no work happens without paying a commission of 10 per cent.It is a matter of shame if this becomes the identity of a government," he said.
Charging that the state "is setting new records in corruption," Modi said, "Congress free government means freedom from dynastic rule, nepotism, corruption and loot."
He also referred to the IT raids at the residences of two state ministers recently and that a raid on a senior Congress leader revealed Benami property and said "there are steel mafia, sand mafia and transfer mafia' in the state."
"Some people hatched a conspiracy to pocket crores of rupees in the name of building a steel bridge. Due to public outrage and BJP's protest, the project was dropped,"Modi said.
He was referring to a steel bridge project in the city at a major traffic junction, which was scrapped after public protest.
Referring to a spate of killings of activists of BJP and Sangh Parivar, he said a number of workers associated with BJP and its affiliated organisations have been murdered.
"It is an assault on the social fabric. I appeal to the people of Karnataka to vote against the government which attacks the social fabric of the state."
Modi said, "I am seeing that Karnataka has decided to free Karnataka from Congress. To free from Congress' culture, from society, from public life, from politics."
The Congress had "ruined" the society, culture and politics, he said, adding, "I can see that the BJP government in Karnataka is not far away."
While referring to the law and order situation, Modi said on the one hand, BJP at the Centre was trying to take India forward, while on the other in Karnataka "there is such a government that there is a reverse flow."
He said criminals are ruling the roost in Bengaluru.
"In Bengaluru also criminal elements have caused worry to the common man. You might have felt this," he said.
Modi said "in the whole world there is discussion about ease of doing business and there are efforts in that direction. Our government is making efforts for the ease of doing business and talking about ease of living."
"But with the Congress government in Karnataka, here there are discussions regarding ease of doing murders," he said.
The BJP government means only development while the Congress government means corruption, appeasement, casteism and nepotism, Modi said.
Accusing the Congress of practising "appeasement politics" on the issue of triple talaq, Modi said, "Congress' vote bank politics has once again come before Muslim women to take away their rights."
"The Congress is trying to hang a bill related to triple talaq", he said, also pointing to Congress opposition to grant constitutional status to the OBC commission.
"To take the country to new heights we want to take everyone together and move forward..... Hundreds of lotuses will bloom in Karnataka from the sludge that is spread by Congress. I have confidence that BJP will get a resounding victory," Modi said in Kannada.
© Copyright 2023 PTI. All rights reserved. Republication or redistribution of PTI content, including by framing or similar means, is expressly prohibited without the prior written consent.