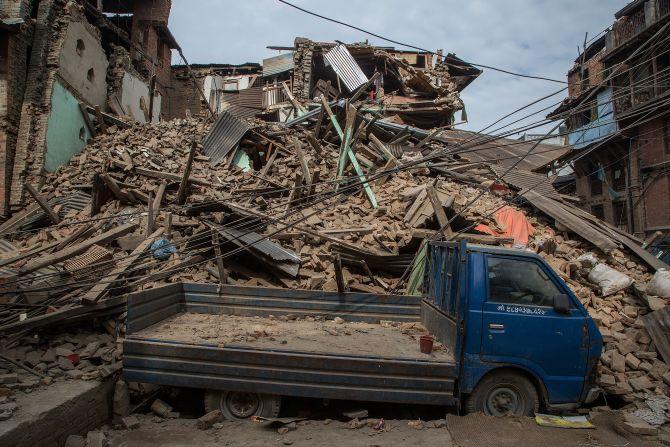 Image: Image: A truck is covered in debris from a collapsed building in Bhaktapur, Nepal. Photograph: Omar Havana/Getty Images
Massive rescue and relief efforts were mounted by India and other neighbours in Nepal, as two powerful aftershocks today rattled the country, adding to the misery of Saturday's devastation in which the casualties soared to 2,400 people dead and over 6000 others injured.
The 7.9-magnitude temblor on Saturday left a trail of devastation and suffering, with people spending the cold night in the open because of a series of aftershocks that scared several of the survivors from returning to their homes.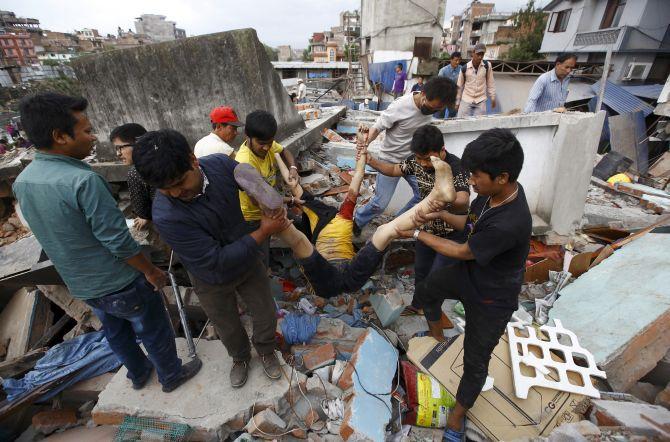 Image: Image: The body of a victim is being carried out from a damaged house after an earthquake hit Kathmandu, Nepal. Photograph: Navesh Chitrakar/Reuters.
According to the latest figures available with the Home Ministry, over 2,400 people have been killed and 6,000 are injured.
1,053 people are reported killed in the Kathmandu Valley alone. Officials fear the death toll could rise as desperate search for survivors continued.
A strong 6.7-magnitude aftershock followed by another measuring 6.5 on the Richter Scale on Sunday sent people running for open spaces.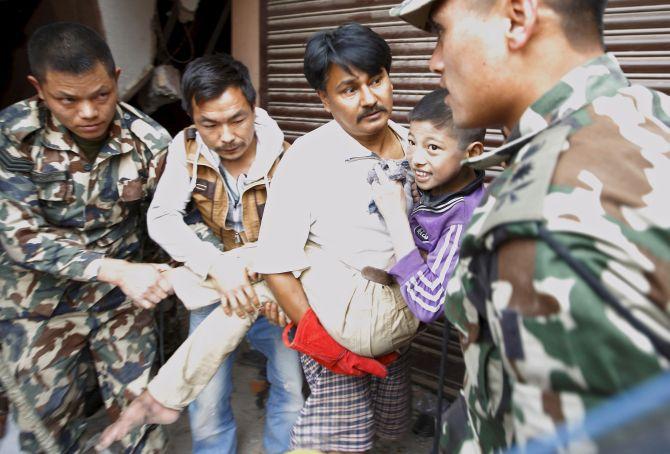 A boy smiles as he is rescued from a collapsed house after a 7.9 magnitude earthquake hit, in Kathmandu, Nepal. Photograph: Navesh Chitrakar/Reuters
International teams, including from India, have touched down in Kathmandu as Nepal declared a state of emergency in the wake of the disaster, the worst in over 80 years of the country's recorded history.
Rescuers have been hunting for survivors under heaps of debris with bare hands as well as heavy equipment though the efforts have been hampered due to fresh tremors, thunderstorms and snowfall in the mountain ranges.
Locals and tourists sifted through mounds of debris for survivors. Cheers rose when people were found alive, though mostly bodies were pulled out.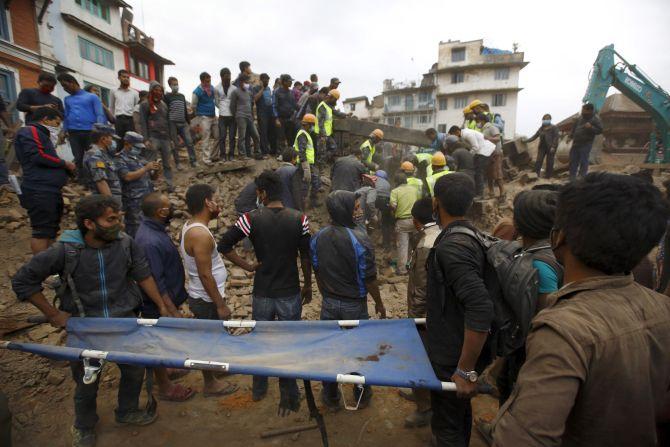 Rescue workers search for bodies as a stretcher is kept ready after an earthquake hit, in Kathmandu, Nepal. Photograph: vesh Chitrakar/Reuters
Climbers said the aftershocks caused more avalanches at the Mount Everest, where at least 22 people have been killed.
MI-17 helicopters of the Indian Air Force (IAF) have carried out five casualty evacuation sorties and the injured have been moved to military hospitals.
An Indian attempting to climb all the highest peaks in the seven continents, 54-year-old Ankur Bahl is also stuck at Camp II on Mount Everest along with 11 other fellow climbers.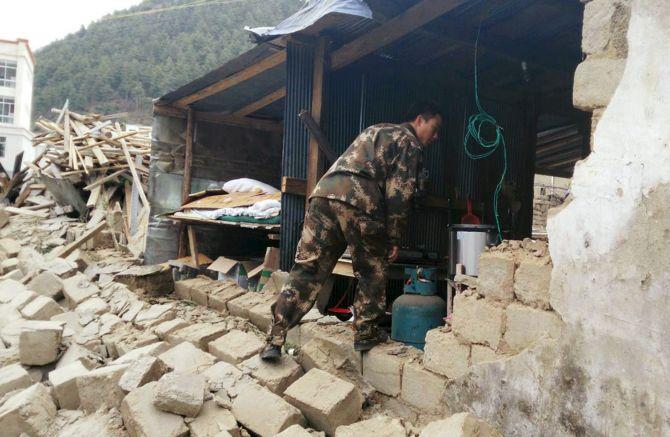 A Rescuer looks at a damaged house, after a 7.9 magnitude earthquake hit Nepal, in Xigaze Prefecture, Tibet Autonomous Region, China. Photograph:Reuters
Bahl had moved to Camp II from Camp I on Saturday but is now stranded due to the earthquake, his friends in New Delhi said.
The earthquake and the aftershocks left behind a trail of death and destruction, flattening houses and buildings, including the iconic Dharhara tower and the landmark Darbar Square in the heart of the capital, trapping scores of people.
According to initial reports related to Sunday's aftershock, a tunnel caved in at the Trishuli Hydel Project and around 60 labourers are feared trapped.
Hospitals in Nepal are struggling to accommodate the number of injured that is running into thousands. People have been lying scattered on the floor and even on the ground outside and receiving treatment.
Indian Air Force planes on Sunday landed in Kathmandu with 43 tonnes of relief material, including food and tents, and around 200 rescuers.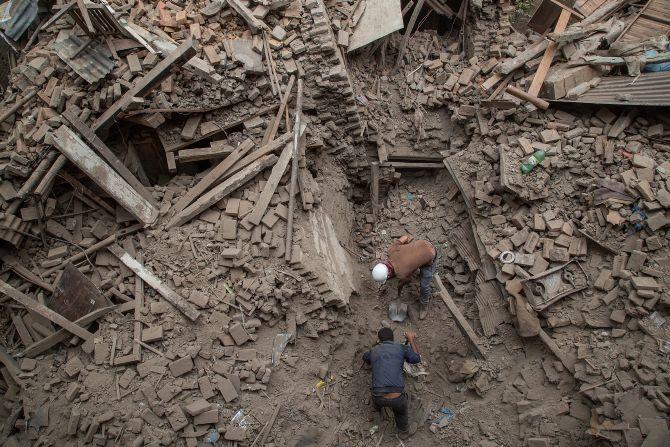 Image: Image: Two men help clear debris after buildings collapsed in Bhaktapur, Nepal. Photograph: Omar Havana/Getty Images
The Nepalese government established a fund of Rs 500 million for the reconstruction of the damaged infrastructure.
With electric poles and lines uprooted, most parts of the country have no electricity for the past 28 hours and authorities say the situation is likely to continue for the next few days.
26 districts are the most affected in Nepal though the far western part of the country has been declared safe.
Offers of help poured in from around the world following the Nepalese government's appeal for assistance, with the US, the European Union as well the United States saying they were sending in disaster response teams.
Nepal has requested international assistance in the response to the disaster, with particular importance placed on the search and rescue capacity, medical teams, supplies and tenting for hospitals, heavy equipment for rubble removal and helicopters for transport and access to blocked areas.
A large number of Indians, including many workers who visit the neighbouring country, said they were faced with basic problems like food and sanitation.