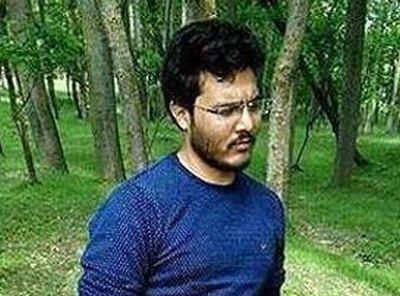 The officer made attempts to get the terrorist to give up by reminding him of his parents and wife.
Dreaded Lashkar-e-Tayiba terrorist Abu Dujana apparently rejected an offer to surrender made by the security forces minutes before the encounter that led to his killing along with an aide in south Kashmir's Pulwama district.
According to a recording of a purported telephonic conversation between Abu Dujana and an unnamed officer of security forces, the LeT commander said, 'Why should I surrender? I have left (home) for martyrdom. I have to die either today or tomorrow.'
The officer made attempts to get the terrorist to give up by reminding him of his parents and wife.
'I have not married. This is propaganda. My parents were dead for me the day I left them,' he said in the audio recording.
When the officer tells him that he must be aware that the conflict in Kashmir 'is a game', Abu Dujana replied 'I know the system. I know everything. What can I do, if anyone wants to play a game. I have to tread my own path'.
The wanted terrorist could afford a laugh or two when the officer told him how he has travelled distances to get him.
He asked the officer about his well-being, saying it has been years since he heard from him.
'When we played 'chor-sipahi'. Sometimes we are ahead, sometimes you. Today you caught me, congratulations,' he said.
The officer responded by saying he was only doing his duty.
'I will fulfil my duty,' the terrorist replied.
The officer tells Abu Dujana that no one wants to kill anyone.
'That's okay, but whoever gave you the information wants me dead,' the terrorist said.
'Listen to me, I cannot surrender. I know you have no animosity with me and that you are fulfilling your duty and I am mine. You do your duty and whatever is written in my fate, Allah will do that,' he added.
When told by the officer that what he was indulging in was not 'jihad', the terrorist said, 'Chalo yaar, kya karenge. (friend, what can we do)'.
The officer asked the LeT commander to come out of the house to surrender and make people understand.
'That is how this bloodshed will end,' the officer said.
'I have never indulged in bloodshed. They know it,' Abu Dujana replied.
When the officer told him that Kashmiris will listen to him, the terrorist disconnected the call.
Dujana, believed to be in his late 20s, was killed on Tuesday in a well-planned operation by a joint team of the Jammu and Kashmir Police, Army and Central Resrve Police Force in Pulwama district of south Kashmir.