Thousands of Muslims posing in front of holy sites for a selfie during the Haj, has angered some conservative clerics and sparking a debate over legitimacy of such actions during the annual pilgrimage.
After being named the word of the year, selfie craze made it to the Haj with pilgrims seen snapping photos of themselves with the Kaaba in background or other holy sites as mementos of their trip but the phenomenon has been criticised by some scholars while some others see nothing wrong in it. Many of the pilgrims seen clicking selfies were from the sub-continent.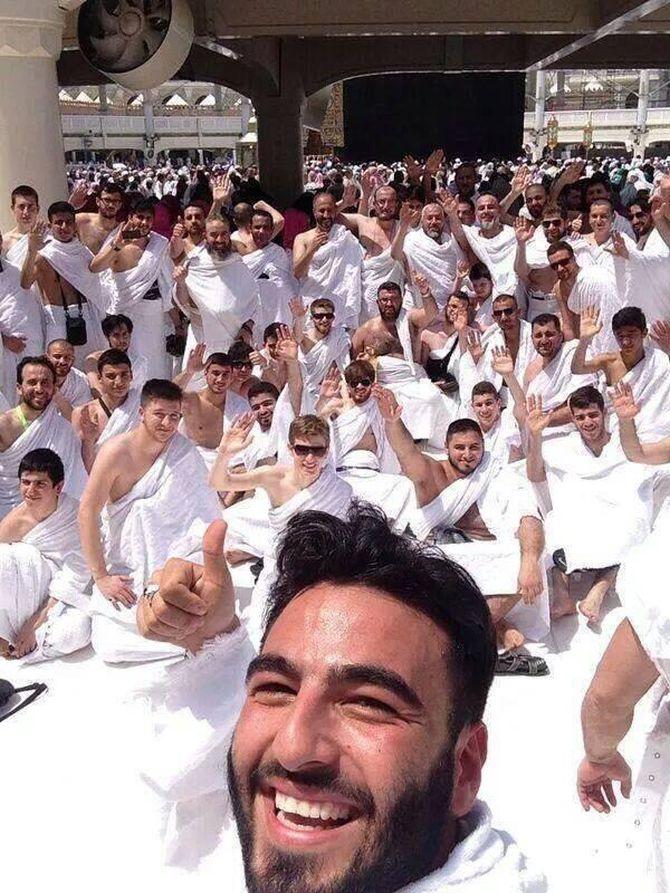 A pilgrim is all smiles as he snaps a selfie during the Haj. Photograph: @muslehjameel/Instagram
"A lot of pilgrims are using cell phones for selfies and sending it across to India by Whatsapp and Facebook," Indian Consul General B S Mubarak said.
Asked whether it was a healthy trend, Mubarak said, "It is up to the pilgrims. Everyone likes to retain their memorable times in life."
A total of 136,020 Indians took part in this year's Haj, one of the five pillars of Islam that should be performed at least once in lifetime by every Muslim who is financially and physically capable.
The selfie craze this year has sparked heated debates on the issue of 'Haj selfies' among scholars and pilgrims. Muhamed Mizic, a pilgrim from Bosnia said, termed it as "totally unacceptable", saying pilgrims should not indulge in such acts as it spoils the spiritual environment and causes hindrances for many others performing the rituals during Haj.
His thought is echoed by Indian pilgrim V M Ibraheem, who said, "There is a sanctity and decorum at such holy sites, such actions undermines the rituals and lead to the practice of show-off by putting it out on social networking websites which is against the spirit of the pilgrimage."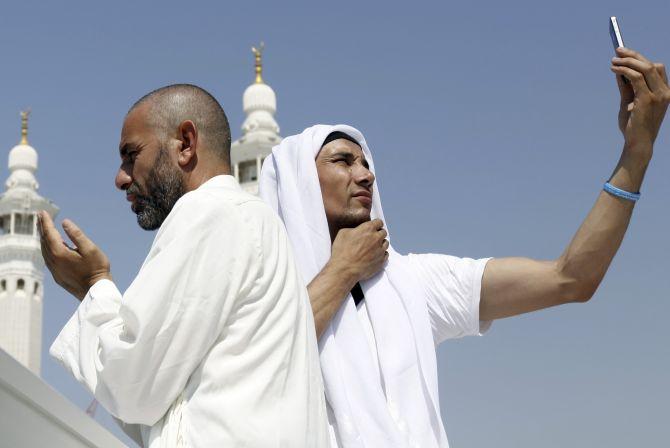 A Muslim pilgrim prays as another takes a photo with his mobile phone at the Grand Mosque during Tawaf al-Wadaa (Farewell Tawaf) on the last day of the annual haj pilgrimage in the holy city of Mecca. Photograph: Amr Abdallah Dalsh/Reuters
Some pilgrims have been so enraged by selfie craze at Haj that they demanded a ban on cameras and camera phones inside holy sites. "Smart phones and cameras should be banned at the two Holy Mosques. This is absolutely unacceptable. People cause hindrance in prayers and turn such spiritual places into tourist sites," said Mansoor Jafar, a pilgrim from Pakistan.
But everybody is not against the trend with many pilgrims arguing that in this age of gadgets and gizmos there is no harm in recording some memorable moments of your life.
"It should not hinder prayers and rituals which are most important. Otherwise there is no harm in clicking a few selfies or snaps at the holy sites as a token of remembrance," said Khairil Amri Tajuddin, a pilgrim from Malaysia.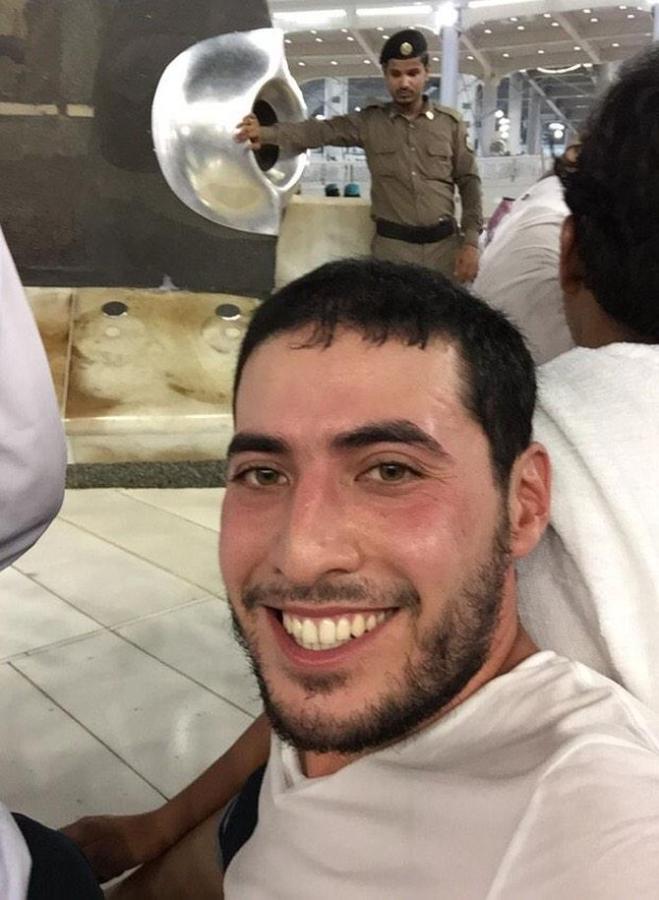 Several Muslim clerics are angry at the selfies being taken say that they are disrespectful.
His views were echoed by Morocco's Hicham Lakhal who said, "What is wrong with a harmless selfie? If one is performing all rituals, selfies and snaps are not harmful as it is an emotional journey and there is nothing wrong in capturing some special moments during it."
"Selfies are fine as for many it is a once in a lifetime opportunity and they want to savour it. There is absolutely nothing wrong with it," said Uganda's Karim Kaliisa.
Mohammed Nasir Uddin, a pilgrim from Bangladesh, said he supports such actions and himself captured special moments on his smartphone.
Some conservative Islamic scholars have slammed the practice of clicking selfies, arguing that it leads to show-off which does not go with the spirit of Haj.
"Photography without a legitimate reason is an issue of dispute among scholars. However, despite this difference of opinion, there shouldn't be any dispute when it comes to the real meaning of Haj and the essence behind it. Taking such selfies and videos defy the wish of our Prophet," Saudi scholar Sheikh Assim Al-Hakeem was quoted as saying by local media reports.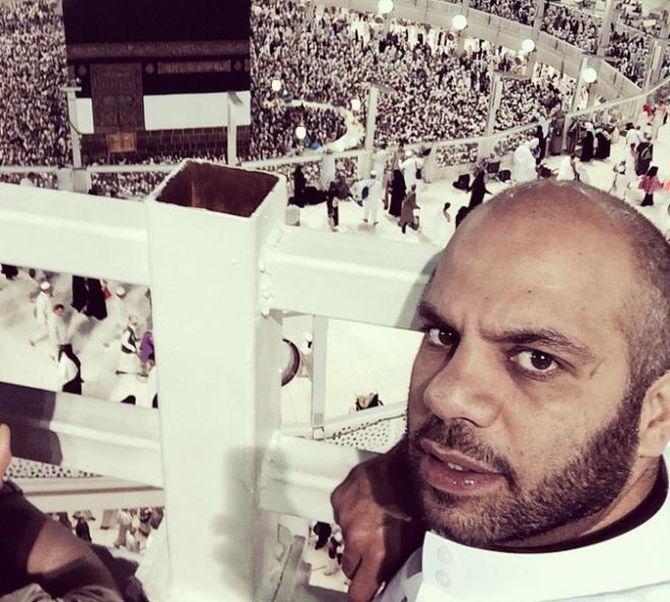 Some scholars say that taking selfies during the pilgrimage is tantamount to showing off, which is against the religion of Islam. Photograph: @yussefdargham/Instagram
Another scholar Sheikh Abdul Razzaq Al-Badr also warned against taking photos during Haj, arguing that such actions amount to show-off and therefore are unacceptable.
The sudden boom in selfies and photo shoots in the holy mosques premises can also be partly blamed on the increased sale and use of smartphones.
Until a few years ago, camera phones were prohibited from being taken inside the holy mosques, although some pilgrims managed to sneak them in.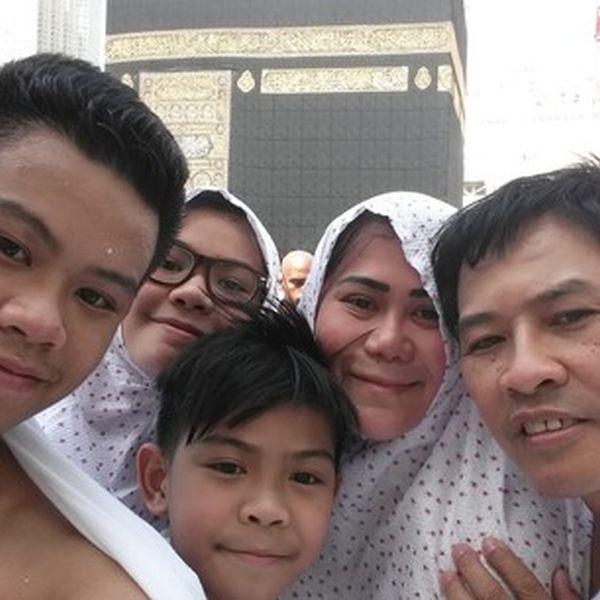 However, there are some that don't find a selfie offensive and add that it's nice to record unforgettable moments. Photograph: @jeamalogalvez70/Instagram
However, authorities seem to have relaxed these rules as it is not uncommon to see pilgrims posing by the Kaaba and clicking away happily, although guards at the mosque entrances are reported to have prohibited people carrying professional cameras from entering.
Saudi authorities described this year's Haj as the most successful ever as more than two million pilgrims performed their religious rites with peace.