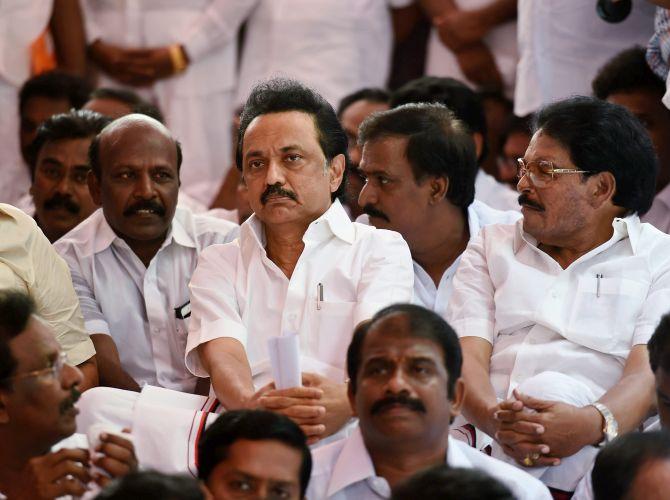 Tamil Nadu Speaker P Dhanapal on Friday once again ruled out reconsidering the suspension of Dravida Munnetra Kazagham MLAs on Wednesday for allegedly creating a ruckus in the House, even as the suspended legislators continued to protest the action.
Led by Opposition Leader MK Stalin and DMK Deputy Leader Durai Murugan, the suspended DMK MLAs staged a 'model assembly' session outside the House.
The Speaker, responding to pleas by DMK's KN Nehru, who was not among those suspended since he was not present in the House on August 17, made it clear that there was no reviewing of his decision to suspend the agitating DMK legislators for a week.
"I was very patient that day and had to finally take action," he said about his decision to suspend the MLAs, even as DMK found support from allies, Congress and Indian Union Muslim League, who also sought revoking the suspension order.
Seven of the nine non-suspended DMK legislators, who were not present in the House on Wednesday, along with Congress and IUML members subsequently staged a walkout.
Dhanapal had on Thursday refused to revoke the en masse suspension of 80 DMK members. The suspended members had staged a protest outside the House and their colleagues inside twice staged a walkout over the issue.
Later, speaking to reporters , Stalin said the suspended MLAs had held a 'model assembly' where they were informed in advance that only people's issues should be discussed and nothing else.
The 'model assembly' was led by Durai Murugan as 'Speaker', he added.
Stalin reiterated his demand for live broadcast of assembly proceedings, saying that will help in identifying on who "committed mistakes."
Image: M K Stalin along with other DMK legislators during a protest outside the Tamil Nadu assembly in Chennai on Thursday, a day after they were suspended for a week for creating ruckus in the House. Photograph: R Senthil Kumar/PTI
© Copyright 2022 PTI. All rights reserved. Republication or redistribution of PTI content, including by framing or similar means, is expressly prohibited without the prior written consent.