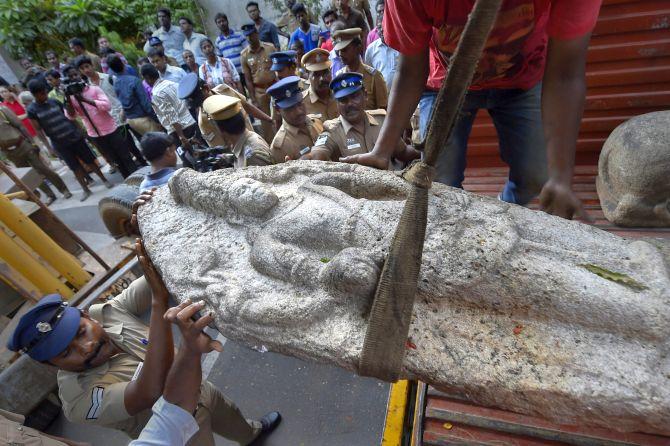 The idol wing CID of Tamil Nadu police on Thursday recovered antique items including idols and temple pillars from a house in Chennai, and said it had strong reasons to believe they could have been stolen from temples.
"I have reasonable grounds to believe all these idols and artefacts are all stolen from Hindu temples in Tamil Nadu," Inspector General, idol wing CID, AG Pon Manickavel said.
Speaking to reporters after overseeing the searches conducted at the house of a businessman in Chennai, he said the needle of suspicion pointed to Dheenadayalan, an alleged kingpin behind idol thefts and smuggling who had been arrested earlier.
He also said nobody in Tamil Nadu has been given licence to sell antique artefacts including idols dating back to over a century.
"None in Tamil Nadu has been given licence to sell antique idols dating over 100 years. But this is happening and we are taking action. Even pillars have been stolen (from temples)," he added.
The person from whose premises the idols have been recovered "is a purchaser," and any arrest in this matter will be effected only if any "incrimination" was found on his part, the official said, adding the former had put on display all the artefacts.
Idol wing DSP Ashok Natarajan said a total of 89 items including 56 stone idols, 22 pillars and 12 metal statues were recovered from the house on Thursday.
The businessman possessed records like registration certificates which showed from whom he had purchased it but there was no record of where these idols were present prior to that, he said.
"They have bought some of them from him (Dheenadayalan) and some others from an antique dealer in Kerala and also from Puducherry," he said.
Notices will be served to sellers from Kerala and Puducherry as part of further action, he added.
The idols will be produced before a local court in Kumbakonam and further action will be taken based on its order, he said.
"It is for certain these artefacts have been taken from some Tamil Nadu temples. These were kept for worshipping and they are antique in nature," he added.
The idol wing CID has recently recovered a number of stolen idols, even as the Tamil Nadu government recommended a CBI probe into the matter citing the need to carry out inter-state and international probe into the matter.
However, the central agency has expressed its inability to take up the probe sought by the government citing shortage of manpower, and informed the Madras high court in this regard.
But, it has assured all assistance to the state police in extradition of the accused or coordination with the Interpol among others.
The court had earlier set up a special bench of Justices R Mahadevan and PD Audikesavalu to deal with a batch of petitions.
It had also reinstated Manickavel as the Idol Wing chief after he was transferred earlier, and asked him to continue to investigate the theft of idols from temples in the state over a period of time.
However, the state government took the decision to transfer the cases to CBI, claiming the idol wing, headed by Manickavel, was not performing satisfactorily.
Image used for representative purposes only
© Copyright 2023 PTI. All rights reserved. Republication or redistribution of PTI content, including by framing or similar means, is expressly prohibited without the prior written consent.