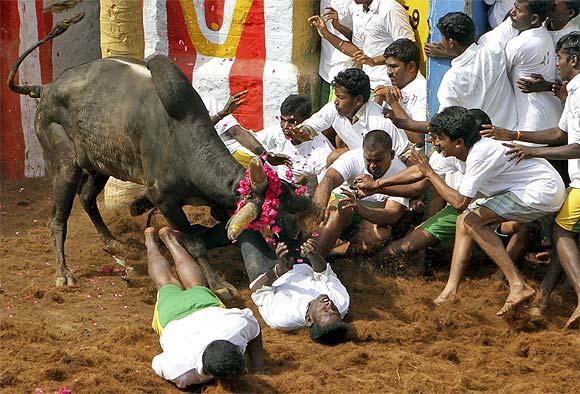 Anticipating challenge to its ordinance allowing bull-taming sport Jallikattu in the state, Tamil Nadu government has filed a caveat in the Supreme Court.
Tamil Nadu government's standing counsel Yogesh Kanna confirmed the development and said the state has urged the apex court that it should be heard if anyone challenges the newly promulgated ordinance.
"We have filed the caveat in the Supreme Court yesterday asking for the state government to be heard in case anyone challenges the ordinance allowing Jallikattu," he said.
Tamil Nadu Governor Ch Vidyasagar Rao had on Saturday approved the Jallikattu ordinance, with Chief Minister O Panneerselvam announcing that the bull taming sport will be held at Alaganallur in Madurai and other parts of the state on Sunday.
The Supreme Court had on Friday agreed not to pass a judgment for a week on the Jallikattu issue after taking into account the Centre's submission that they were in talks with Tamil Nadu to find a way out in the matter.
Attorney General Mukul Rohatgi had then mentioned the matter before a bench comprising Justices Dipak Misra and R Banumati that people of Tamil Nadu were "passionate" about Jallikattu and the Centre and the state were trying to resolve the issue.
"The Centre and the state are in talks to find a way out in the matter and our request is that the court should not deliver the judgement for at least a week," Rohatgi told the bench.
On hearing the AG's brief submission, the bench said "Okay".
The apex court had reserved its verdict on December 7, 2015 on a batch of petitions challenging the Centre's notification allowing the sport.
Following this, the Centre had issued a notification on January 7, 2016 lifting the ban on Jallikattu in Tamil Nadu with certain restrictions, which was challenged in the apex court by Animal Welfare Board of India, People for Ethical Treatment of Animals India, a Bangalore-based NGO and others.
The Supreme Court had on January 21 last year refused to re-examine its 2014 judgment banning the use of bulls for Jallikattu events or bullock-cart races across the country.
It had also stayed the January 8 notification of the Centre and questioned it over the notification allowing use of bulls in events like Jallikattu, saying that its 2014 verdict banning the use of the animals cannot be "negated".
The court in its 2014 judgment had said that bulls cannot be used as performing animals, either for Jallikattu events or bullock-cart races in the states of Tamil Nadu, Maharashtra or elsewhere in the country, and banned their use across the country.
The apex court had also earlier declared Tamil Nadu Regulation of Jallikattu Act, 2009 as constitutionally void, being violative of Article 254(1) of the Constitution.
© Copyright 2021 PTI. All rights reserved. Republication or redistribution of PTI content, including by framing or similar means, is expressly prohibited without the prior written consent.