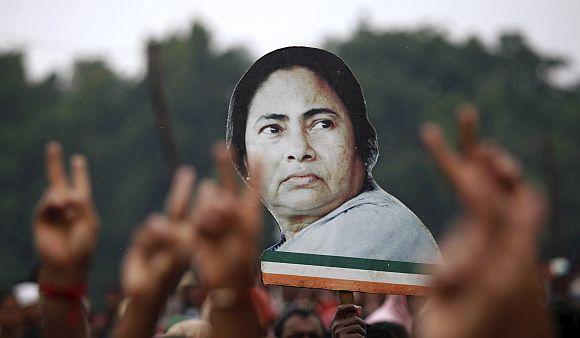 In a major boost to the party ahead of next year's Assembly polls, the Trinamool Congress on Saturday scored a landslide victory in the newly formed Bidhannagar Municipal Corporation, bagging 37 of the 41 wards and winning all the 16 wards in Bally Municipalty under Howarah district.
The TMC has also taken a massive lead in Asansol Municipal Corporation by leading in almost 80 wards out the 106 wards. Out of those 80 wards, TMC had already won 43 wards, officials of state election commission said.
Although the TMC hailed it as victory of the masses and people restoring their faith in the developmental work ushered by party supremo and West Bengal Chief Minister Mamata Banerjee, the opposition Left Front has claimed that the results reflect the strength of the TMC's 'goondaism' rather than the reflection of the people's mandate.
Elections to Asansol, Bidhannagar municipal corporations and Bally municipalty, held on October 3 was marred by rampant violence and assault on journalits with over 70 per cent people casting their votes.
CPI-M's mayor candidate and former state finance minister Asim Dasgupta, was among the heavyweights who lost the polls in Bidhannagar.